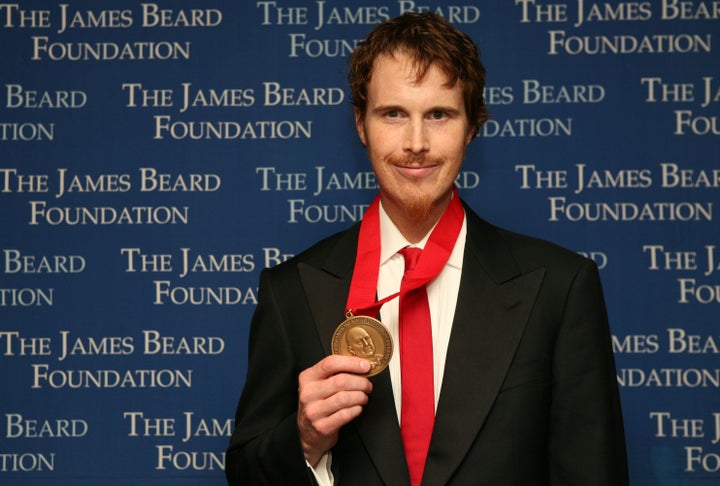 UPDATE: Here are all the winners:
Best New Restaurant
Next, Chicago
Outstanding Chef
Daniel Humm of Eleven Madison Park in New York
Outstanding Pastry Chef
Mindy Segal of Mindy's Hot Chocolate in Chicago
Outstanding Restaurant
Boulevard in San Francisco
Outstanding Restaurateur
Tom Douglas of Tom Douglas Restaurants in Seattle
Outstanding Service
La Grenouille in New York
Outstanding Wine & Spirits Professional
Paul Grieco of Terroir in New York
Outstanding Wine Program
No. 9 Park in Boston
Outstanding Bar Program
PDT in New York
Rising Star Chef Of The Year
Christina Tosi of Momofuku Milk Bar in New York
Great Lakes
Bruce Sherman of North Pond in Chicago
Mid-Atlantic
Maricel Presilla of Cucharamama in Hoboken, N.J.
Midwest
Tory Miller of L'Etoile in Madison, Wisc.
New York City
Michael Anthony of Gramercy Tavern in New York
Northeast
Tim Cushman of O Ya in Boston
Northwest
Matt Dillon of Sitka & Spruce in Seattle
Pacific
Matt Molina of Osteria Mozza in Los Angeles
South
Chris Hastings of Hot and Hot Fish Club in Birmingham, Ala.
Southeast (tie)
Hugh Acheson of Five and Ten in Athens, Ga. & Linton Hopkins of Restaurant Eugene in Atlanta
Southwest
Paul Qui of Uchiko in Austin, Texas
James Beard Foundation Lifetime Achievement Award
Wolfgang Puck
James Beard Foundation Humanitarian of the Year
Charlie Trotter
James Beard Foundation Who's Who of Food & Beverage in America Inductees
- Grant Achatz, chef and author, Chicago
- Mark Bittman, journalist and author, New York
- Dana Cowin, editor-in-chief at Food and Wine magazine, New York
- Emily Luchetti, pastry chef and author, San Francisco
- Marvin Shanken, publisher, New York
James Beard Foundation America's Classics
- The Fry Bread House in Phoenix
Owner: Cecelia Miller
- Nora's Fish Creek Inn in Wilson, Wyo.
Owners: Nora Tygum, Trace Tygum and Kathryn Tygum Taylor
- St. Elmo Steak House in Indianapolis
Owners: Stephen Huse and Craig Huse
- Jones Bar-B-Q Diner in Marianna, Ark.
Owners: James and Betty Jones
- Shady Glen in Manchester, Conn.
Owners: William and Annette Hoch
The annual James Beard Awards, happening Monday night at Avery Fisher Hall at Lincoln Center in New York, are one of the biggest events in the food world. Little else brings together as many chefs from across the country. Alton Brown, the co-host of this year's awards, actually lit the Empire State Building in honor of the festivities.
Monday night's James Beard Awards will honor established and rising chefs from across the country, outstanding wine programs, restaurateurs, individual restaurants and more (see the full list of 2012 nominees). On Friday night, the nominees for the broadcast, book and journalism awards gathered for a separate awards ceremony. Check out the winners for those honors here.
Like any major award show, the James Beard Awards are not without its detractors (see here and here), but the medal still remains one of the few recognized -- and coveted -- accolades granted to chefs and other food professionals across America.
HuffPost Food is on hand at the awards to fill you in on the evening's winners, attendees and festivities. If you want to follow along, check out the liveblog below, watch the awards live if you'd like, and be sure to follow the hashtag #jbfa on Twitter (and follow us @huffpostfood).
Check out some photos (courtesy of Tina Wong) of the night: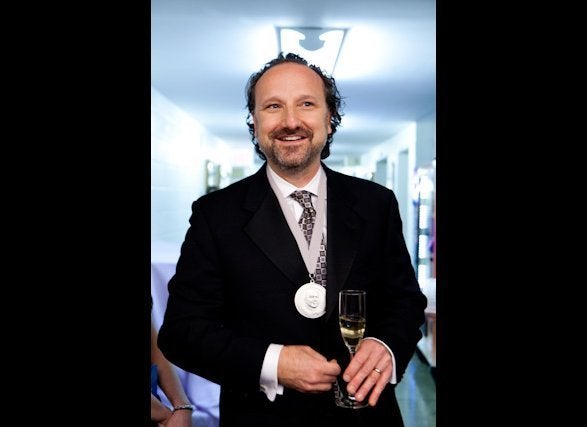 James Beard Awards 2012
Check out our liveblog below.
Related