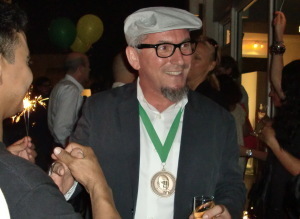 As the plane pulled up to the gate, more than two dozen of his closest friends and co-workers noisily waited. The din grew to a dull roar as the subject of all the excitement exited the plane, brandishing his Olympic-sized medal. A limo waited patiently outside to ferry him to the fiendishly hip design district of Miami, where more than a hundred people had gathered. Chef Michael Schwartz, the 2010 James Beard award winner for the South, made his grand entrance, to a cheering crowd. They held sparklers and balloons, and toasted him with champagne.
In a city filled with trendy restaurants, where it's less about the food and more about being seen, Michael's Genuine Food has broken the mold. Just good food, done right. I could wax lyrical over his famous burratta with heirloom tomatoes, short rib, wood-oven baked whole fish, not to mention his Sunday brunch, complete with pop tarts and pastrami filled omelets, but you'll just have to try for yourself.
Schwartz is a man who made his name using fresh, local, organic produce; a tradition he plans to continue at his second restaurant, opening soon in the Cayman Islands. The chef who got his start at Nemos, the South Beach institution, was the toast of the evening. The place that started as a hidden gem but was quickly discovered by Miami's movers, shakers and visiting celebrities, is now well and truly on the gastronomical map. Just ask the New York Times -- they've been writing rave reviews for the last two years. Hopefully I'll still get a reservation when I call...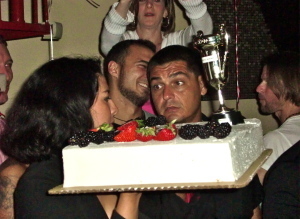 REAL LIFE. REAL NEWS. REAL VOICES.
Help us tell more of the stories that matter from voices that too often remain unheard.