Now, six New Yorkers who lost family members in encounters with the NYPD are asking: Where's our apology? Where's our meeting?
In 1994, Nicholas Heyward's 13-year-old son, Nicholas Jr., was fatally shot by a police officer in Brooklyn who reportedly mistook the teen's toy gun for a real one.
"[Bratton] was the commissioner 21 years ago when my son was murdered," Nicholas Heyward said at a rally outside NYPD headquarters in lower Manhattan on Tuesday.
"Was I able to get the opportunity to talk to the mayor at that time -- Mayor Rudy Giuliani?" Heyward asked. "No, I was not. I made attempts to reach out to this mayor here, de Blasio. Was I able to achieve that? Absolutely not. Why? My son was innocent, unarmed. Why wasn't I able to get an apology from anyone? Absolutely no one. Why does this continue to happen?"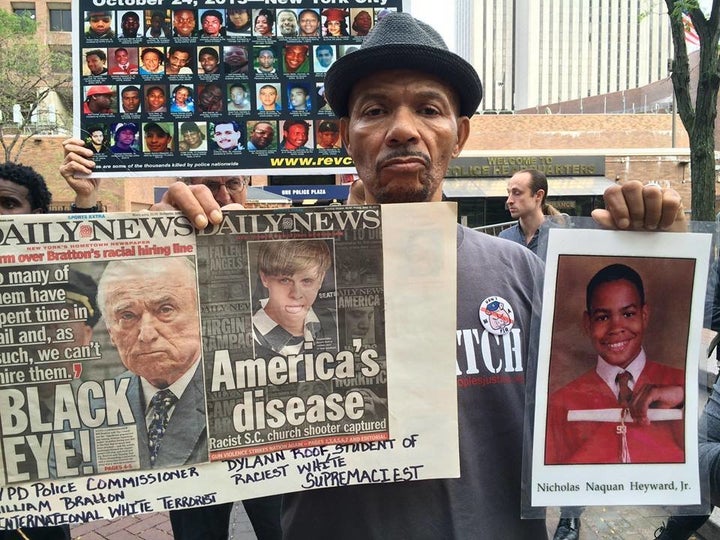 "Why does [James Blake] get to have a meeting with the mayor and the police commissioner?" Heyward Sr. continued. "Because of his celebrity status."
Four years ago this month, an undercover police officer fatally shot John Collado, a 43-year-old former pro wrestler, after Collado tried to break up a fight between his friend and the officer. Collado's family says he didn't know that the second man in the altercation was an undercover cop.
Joshua Lopez, Collado's 36-year-old nephew, said at Tuesday's rally that what happened to James Blake "goes on every single day in our community and we get no apology from no mayor, no commissioner, nobody."
"Cops are harassing and brutalizing and murdering and doing everything to us and we get no apology for that," he said. "I'm asking for justice, not only for my uncle but for everybody out here."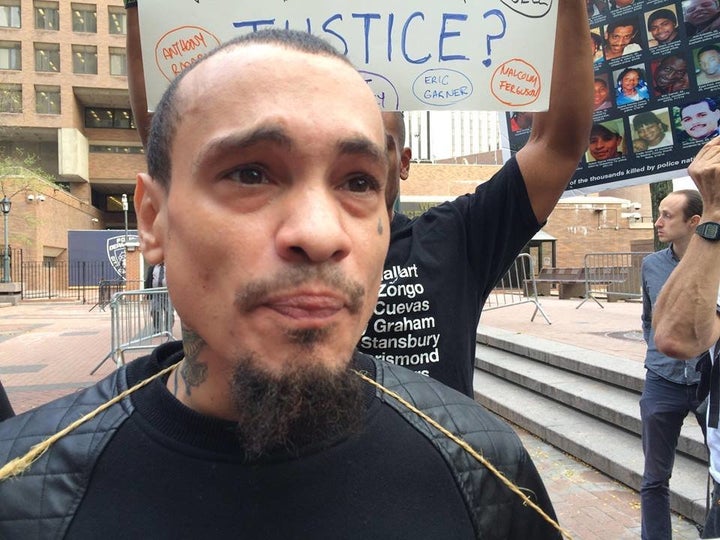 On Sept. 9, as Blake waited for a cab outside the Grand Hyatt hotel in midtown Manhattan, plainclothes officer James Frascatore tackled him to the ground and handcuffed him.
"The first words out of my mouth were 'I'm 100 percent cooperating,'" Blake told CNN. Shocking surveillance footage released by the NYPD shows Frascatore's takedown of Blake, who has a black father and a white mother.
Blake was detained for 15 minutes before cops realized they had the wrong man. According to the NYPD, a cooperating witness had misidentified the tennis star as being part of an identity theft scheme.
Blake had been ranked as high as No. 4 in the world before retiring from professional tennis in 2013. When he encountered Frascatore, he'd been waiting to take a cab to Queens to watch a match at this year's U.S. Open.
Hertencia Petersen, whose nephew, Akai Gurley, was gunned down by an officer last year, pointed out that unlike many others, Blake "lived to tell about his ordeal."
"He was released and had the pleasure to get an apology not only from the commissioner but also from the mayor of the city," Petersen said at Tuesday's rally.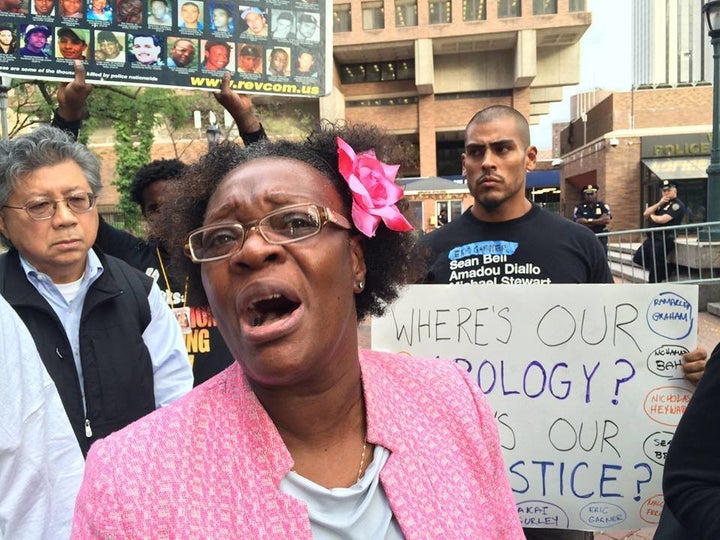 But her nephew never got that chance, Petersen said.
"Ten months later, [Gurley's mother] Sylvia Palmer have not received an apology from Mayor de Blasio, nor from Bill Bratton," she said. Bratton previously characterized Gurley's death as an accident. "Ten months later, [Gurley's daughter] Akaila Gurley have yet to receive an apology from either the mayor, or the police commissioner."
"But why?" Petersen continued. "Because he was not a celebrity. He was not a celebrity."
(Reports from shortly after Gurley's death
indicate
that Bratton and de Blasio did meet with some of Gurley's family members to apologize, but it's unclear whom exactly the officials met with.)
Angie McKay, whose niece, Shantel Davis, was fatally shot by an NYPD officer in 2012, said she was "baffled" that Blake got an apology "so fast, while years later we still standing here with questions."
The families "deserve an apology for what police officers did to our children," said Margarita Rosario. Her 18-year-old son, Anthony Rosario, and 21-year-old nephew, Hilton Vega, were
fatally shot by NYPD cops in 1995
.
Iris Baez, whose son, 21-year-old Anthony Baez, was put in a
fatal police chokehold
in 1994, said the mothers of children killed by the NYPD "deserve an apology -- an apology from the heart, not from the mouth."
Neither the mayor's office nor the NYPD responded to a request for comment.
Blake's arrest once again drew attention to the aggressive policing often employed against minorities in New York and across the country.
"I don't want anybody to go through what we going through," Lopez, the nephew of Collado, said on Tuesday. "Look at all the faces, men, women and children, black and Latino people being murdered by law enforcement. They here supposedly to protect us."
Meanwhile, two bills pending in the New York City council aim to track officers with histories of excessive to give them further training or discipline.
But for some policing reform advocates, it's too little too late.
"While Blake's celebrity status has earned him a meet-and-greet with Mayor de Blasio and Bratton, other non-celebrity New Yorkers point to a long history of abuse and brutality from department more than happy to turn a deaf ear to average New Yorkers," said Josmar Trujillo of the Coalition to End Broken Windows, which helped to organize Tuesday's rally.
"Black lives matter. Latino lives matter. Non-celebrity lives matter. It's high time the city acknowledged that," Trujillo continued. "There are many more egregious cases, many ending unfortunately in fatal encounters with police."
And Priscilla Gonzalez of the Communities United for Police Reform said in a statement Monday that "Mayor de Blasio and Commissioner Bratton have failed to take any substantive action to implement real accountability for police abuses and brutality."
Gonzalez pointed to at least 32 instances of alleged police brutality in New York since de Blasio took office and appointed Bratton in January 2014.
"Neither their vague neighborhood-policing plan nor their commitment to provide new training can substitute for accountability in addressing the historic problem of police brutality," she said.
"Docking vacation days, suspension with pay, and simply moving an officer elsewhere in the department are not appropriate accountability for officers who violate their fundamental oath to protect and serve the public," Gonzalez continued. "Until departmental policy shows no tolerance for abusive policing and brutality, incidents like the one Mr. Blake experienced will continue to occur throughout our city."
Popular in the Community