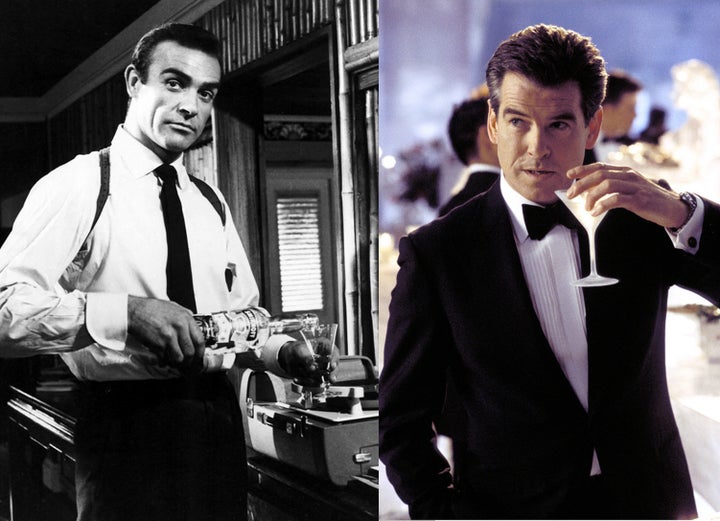 James Bond drinking beer? Not a suave move Bond. James Bond swilling beer is a huge branding bomb. We know and love this sophisticated spy for his elegance, savoir-faire and swagger, not for sipping the foam from a heady Heineken.
Famed for his signature beverage of a vodka martini "shaken, not stirred," Bond has caved to down the brew for a purported 45 million dollar marketing deal from Heineken. Picture this: a beautiful Bond girl approaches the current James Bond guy, Daniel Craig, at a bar in some sensual island hoping to be seduced by him -- and then eyes his drink -- a can of beer. Game over.
Lesya Lysyj, a representative of the Dutch brewer says, ''James Bond is a perfect fit for us,'' Maybe he is, but beer isn't a "perfect fit" for his brand. She adds, "He is the epitome of the man of the world.'' Not after this commercial caper.
According to Ad Age the Heineken brand has had a partnership with the film for 15 years, but this is the beermaker's most visible move to capitalize on the Bond name. This unfortunate decision has caused quite a stir among fans and inspired jokes from the likes of Peter Sagal and his guests on the popular NPR Show, "Wait Wait...Don't Tell me." In this week's show Sagal quipped, "His tuxedo is just printed on a T-shirt now. We're looking forward to having him sidle up to the bar in his tuxedo T-shirt and he's going to order a brew." Guest panelist Adam Felber added, "He'll be Jimmy Bond now." Sorry, but beer is bad for the Bond Brand. Say it ain't so James. We want our Aston Martin, Rolex wearing, martini drinking man to stay true to his elegant, womanizing ways, not throw one back like the rest of us working stiffs.
Popular in the Community