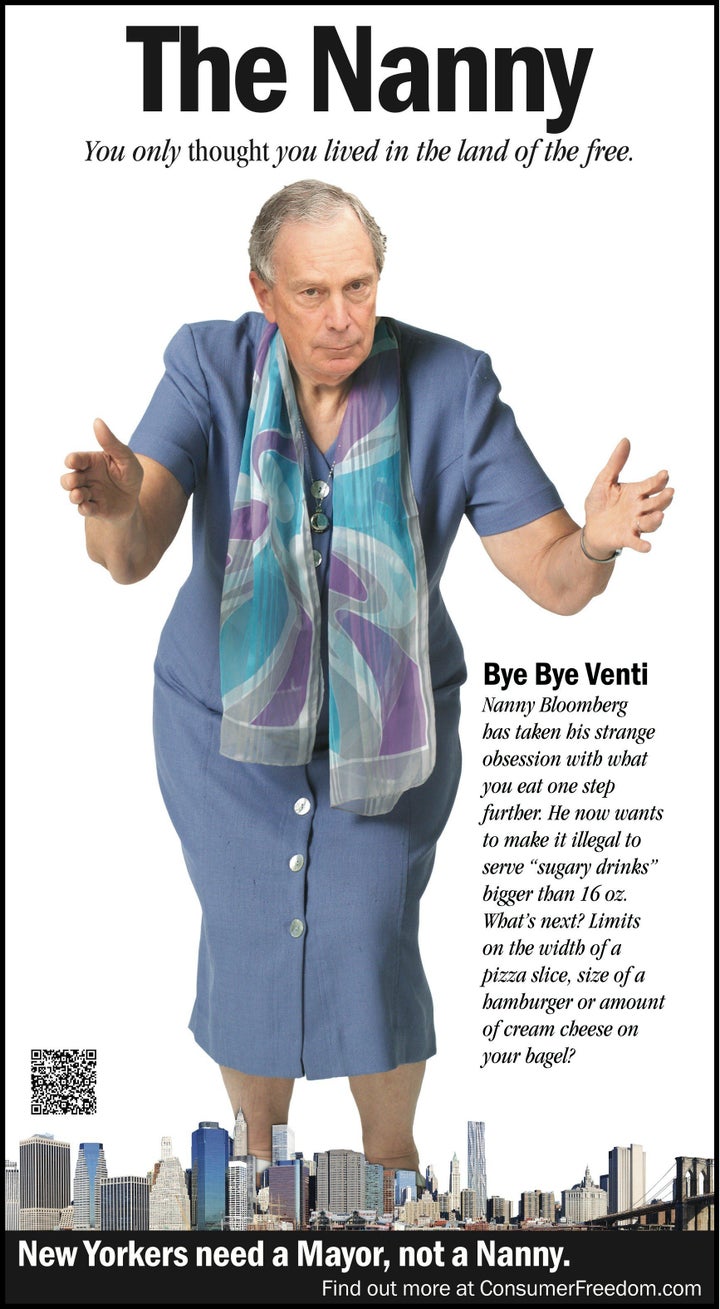 Ad creator James Bowers works for a lobbyist nicknamed Dr. Evil. So perhaps it makes sense that Bowers has a wicked sense of humor. He wields it to skewer regulation-prone advocates of eating better and drinking less.
"Humor disarms people to some degree and makes them a little more receptive to a notion that would normally make them angry," he told The Huffington Post on Monday.
In a poke this week at New York City Mayor Michael Bloomberg's campaign to ban large sodas, Bowers and team photoshopped Bloomberg in a dowdy dress that exposed hefty cankles. The tagline reads, "New Yorkers need a Mayor, Not a Nanny." The ad, which ran in the New York Times, made the media and water-cooler rounds on Monday.
"It's a laughable proposal and it deserves an amusing response," Justin Wilson, Consumer Freedom's senior research analyst, said to HuffPost.
Bowers, 40, has a history of broad comedic swipes at perceived enemies of personal liberty. Lawsuits by consumers who blame fast food for making them fat, plus anti-obesity measures, have inspired much of his notable work.
In a 2004 spot, "Seinfeld" Soup Nazi Larry Thomas had fast-food diners weighed on a scale. He tells one woman, "No soup for you, only salad!" He blurts out to a chubbier man, "Nothing for you!"
A later work features a lawyer berating an unseen defendant because his client gained weight from eating the defendant's cookies. "You make them taste good on purpose, don't you?" he asks. Then the camera reveals an ersatz Girl Scout in the witness chair, who answers meekly, "I guess so."
WATCH The Cookie Video Below
The Bloomberg ad augments Bowers' canon of print digs. In 2008, he conjured a scenario in which one hippo tells the other, "Fred, your butt is getting huge. Who can we sue?"
"Humor has always been the spoonful of sugar that helps the message go down, in terms of our thinking," he said.
Bowers' boss is Rick Berman, a PR specialist who, according to "60 Minutes," takes pride in the "Dr. Evil" nickname used by public health officials. Berman's public relations arm and the nonprofit center fight what they see as too much interference in consumer choice.
Consumer Freedom received seed money from Philip Morris in 1995 and is backed by the restaurant and beverage industries, according to reports. The center declined to discuss specific funders.
The center's own brand of activism has extended to attacks on watchdog groups, including Mothers Against Drunk Driving, PETA, and unions. One of Bowers' recent commercials mocked organized labor. The sequence features workers on the job as they sarcastically make declarations such as, "I like that my union dues are going to politicians I don't even like!"
Bowers, of Arlington, Va., graduated from Indiana University with a double major in journalism and political science. He started in graphics at Consumer Freedom 16 years ago and now brainstorms many of the center's more memorable hits. Berman and Co. have won more Pollie awards for humor-based advertising from the nonpartisan American Association of Political Consultants than any other firm, he said.
But he isn't in the game for just laughs and recognition. He believes in the message.
"I am a strong libertarian," he said. "It's easier to do the job if you believe in the overarching philosophy."
Related
Popular in the Community