A homeless New Mexico man who was illegally camping in the Albuquerque foothills was fatally shot by police.
New helmet camera video released by the Albuquerque Police Department on Friday shows the moment 38-year-old James Boyd turns his back to officers and then gets shot dead. Despite overwhelming criticism to the shooting, the department says its officers were justified, KRQE reported.
Boyd was shot on Sunday, March 16. Police Chief Gorden Eden said officers approached Boyd, who was sleeping, to speak to him about illegally camping in an open space, according to the Albuquerque Journal.
According to authorities, Boyd began arguing with officers for more than three hours before the fatal shooting. Graphic video released by the department shows cops yelling at Boyd to "get on the ground" moments before he's shot.
"Don't change up the agreement, I'm going to try to walk with you," Boyd says in the video. The suspect then picks up his belongings as if ready to leave. As he starts to head down the hill, an officer can be heard saying "Do it," before Boyd is hit with a flash-bang device.
Visibly disoriented, Boyd drops his bags and appears to take out a knife. That's when two officers, Dominque Perez and Keith Sandy, fire multiple rounds into the man.
Boyd can be seen dropping to the ground, where he lays still. Officers yell at him to drop his knife repeatedly. When the suspect doesn't answer, police fire multiple bean-bag rounds at the man, then release a K-9 officer on him.
Officer Sandy, who was involved in the shooting, was fired from the New Mexico State Police in 2007 over accusations of fraud. He was allegedly making money doing private security work while also on the force, KRQE reported.
When Sandy joined the APD, the department said he would be a civilian employee and wouldn't have a gun or badge. Sandy continued rising through the ranks, eventually joining the Repeat Offender Project Team.
Boyd, who police said may have been a paranoid schizophrenic, has a long criminal history. In the past, he allegedly attacked people with knives, box cutters, and his hands, and in 2010 broke a female officer's nose, according to KOAT.
During a news conference, Chief Eden said the shooting was justified because Boyd was a "direct threat" to the three gun-wielding officers. Eden reportedly left the press conference before news stations could ask why officers didn't use stun guns instead of firing their weapons.
"I was a police officer for a decade," says Patrick Davis, now executive director of ProgressNow New Mexico. "The over-militarized approach to law enforcement is having a very real effect on people's lives here in New Mexico and our leaders who should be taking real action seem to be taking it all in stride."
The Department Of Justice is already investigating the department over separate matters related to its use of force, according to KRQE.
ProgressNow reports that the DOJ has been reviewing the department since 2012, when the agency's record of shooting 25 suspects -- 17 of which were fatal -- gained national attention.
Albuquerque officers have shot more people than the NYPD, a department serving a city 16-times larger, since 2010, according to ProgressNow.
Officers Dominque Perez and Keith Sandy have both been placed on paid administrative leave.
Like Us On Facebook |

Follow Us On Twitter |

Contact The Author
Related
Before You Go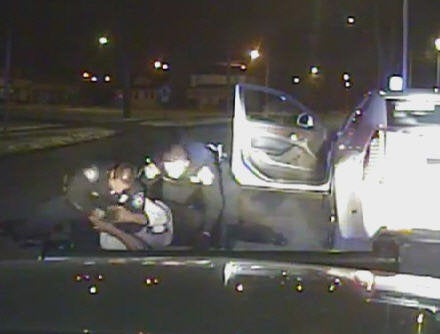 Police Brutality Incidents
Popular in the Community