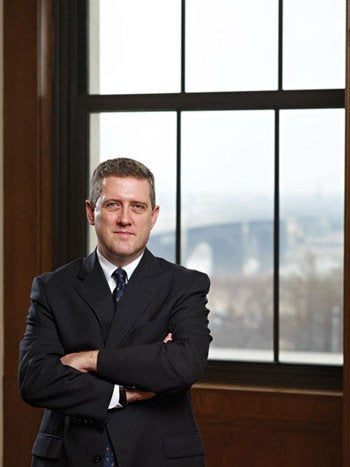 The president of the Federal Reserve Bank of St. Louis supports a Senate plan that would force Wall Street megabanks to spin off their derivatives units and raise significantly more capital to cover their bets, becoming the third Fed official outside Washington and New York to support a hotly contested measure that's turning into a Wall Street versus Main Street issue.
James Bullard, the St. Louis Fed chief, joins Dallas Fed President Richard Fisher and Thomas Hoenig, who heads the Kansas City Fed, as the three Fed officials who publicly support the provision, authored by Senate Agriculture Committee Chairman Blanche Lincoln (D-Ark.), according to one of his spokesmen. The Obama administration and the Fed's Washington-based Board of Governors oppose the measure and are working to kill it.
Bullard's support is key to a measure vehemently opposed by Wall Street. The plan would force financial behemoths that run their swaps-dealing operations out of their banks to reorganize those desks into separately-capitalized affiliates, compelling them to collectively raise tens of billions of dollars in capital to back up potential losses.
JPMorgan Chase, Goldman Sachs, Bank of America and Citibank are the biggest dealers in over-the-counter swaps in the country, according to the most recent figures from the Office of the Comptroller of the Currency. Swaps are a type of derivative contract.
Last week, Hoenig and Fisher sent letters of support to Lincoln, referring to her measure as one "of utmost importance to our nation's long-term financial and economic stability." Though Bullard supports the measure, he's presently out of the country and unavailable for comment, said Robert J. Schenk, a senior vice president in charge of public affairs at the St. Louis Fed.
The three regional Fed chiefs represent the Fed and bankers in the broad middle of the country stretching from Kentucky to Colorado. Bullard and Hoenig are voting members of the Fed's main policy-making body, the Federal Open Market Committee. The FOMC sets the main interest rate, the federal funds rate.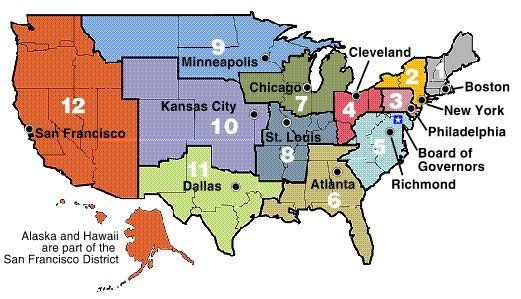 Meanwhile, Treasury, led by Timothy Geithner, representing the White House, and the Fed's Board of Governors, led by Ben Bernanke, find themselves on the side of Wall Street money center banks.
"It shows the access of the major Wall Street banks in the Treasury Department in spades," one Senate aide told the Huffington Post earlier this week on the condition of anonymity. "I think this shows that the [Fed's] Board of Governors and Treasury are out of touch with how a lot of other people are thinking about this stuff."
House Speaker Nancy Pelosi is among the provision's more high-profile supporters. Federal Deposit Insurance Corporation Chairman Sheila Bair opposes it, though spokesman Andrew Gray says the agency is "optimistic our concerns can be addressed."
Bair believes banks should be able to hedge against interest rate and currency risk for themselves and their customers. During a May 5 speech on the Senate floor, Lincoln said banks can continue to do exactly that even if her proposal is adopted into law.
"Banks that have been acting as banks will be able to continue doing business as they always have," Lincoln said. "Community banks using swaps to hedge their interest rate risk on their loan portfolio will continue to be able to do so. Most important, we want them to do so."
This week, Lincoln sent around Capitol Hill a possible clarification to her provision. The legislation will still allow banks to appropriately hedge against changes in interest rates and currency valuations, and will be able to continue to offer swaps to customers in conjunction with traditional bank products like loans, according to her office.
Other supporters of her measure include the Independent Community Bankers of America, the Consumer Federation of America, AARP, and various labor unions and leading economists, including Nobel Prize-winning economist Joseph Stiglitz.
House Agriculture Committee Chairman Collin C. Peterson indicated his support for the measure last week during House-Senate negotiations over combining the chambers' separate versions of financial reform legislation.
Earlier this week, a White House spokesman said of Lincoln's spin-off measure that "we continue to see this specific provision as only one small piece of the sweeping derivatives reform that Senators Dodd and Lincoln and Chairman Frank have championed."
Lincoln's measure aims to "let banks be banks," supporters say, by forcing them to shed their riskiest Wall Street operations from the deposit-taking bank. Banks are explicitly supported by taxpayers in the form of federal deposit insurance and access to cheap funds from the Fed's discount window. Supporters argue that taxpayers shouldn't subsidize banks' swaps dealing when they're not offered to customers wishing to hedge risk in conjunction with traditional banking products.
By forcing megabanks to divest their units into separate affiliates, which in turn would compel them to raise money to capitalize these affiliates, Lincoln's measure could force them to scale down their operations. At the least, supporters say, it would force them to have enough cash on hand in case their bets began to sour, saving taxpayers from having to step in to prop up the banks like they did in 2008 -- an explicit level of support that continues today.
An e-mailed request for comment from Treasury was not immediately returned.
Popular in the Community