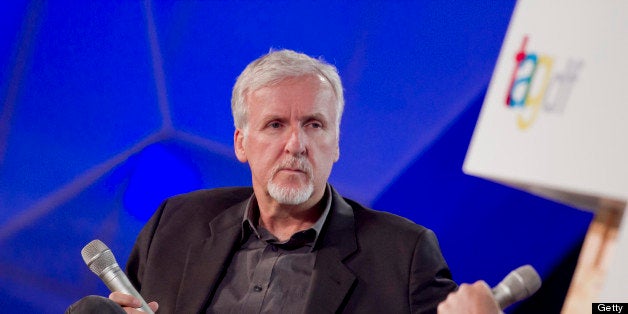 Part of James Cameron's duties as King of the World? Calling out movies that were unnecessarily released in 3D.
The "Avatar" director has been on that beat since 2010. "3D's here, and it's got an enormous amount of momentum," Cameron said in a 2010 interview with Movieline. "Hopefully, the best outcome is that the audience is smarter and they know to be discriminating, and the studios are smarter and they know not to abuse the market. I'd like to think that's the case, going forward."
Later that year, Cameron called out the movie "Piranha 3D" for lessening the format that he worked so hard to perfect in "Avatar."
"I tend almost never to throw other films under the bus, but that is exactly an example of what we should not be doing in 3D," Cameron told Vanity Fair. "Because it just cheapens the medium and reminds you of the bad 3D horror films from the 70s and 80s, like 'Friday the 13th 3D.' When movies got to the bottom of the barrel of their creativity and at the last gasp of their financial lifespan, they did a 3D version to get the last few drops of blood out of the turnip. And that's not what's happening now with 3D. It is a renaissance—right now the biggest and the best films are being made in 3D. Martin Scorsese is making a film in 3D ['Hugo']. Disney's biggest film of the year -- 'Tron: Legacy' -- is coming out in 3-D. So it's a whole new ballgame."
"One thing is shooting in 3D and another to convert to 3D," Cameron said during a chat with director Alfonso Cuaron (translation via LaVerdad.com). "After 'Avatar' changed everything, good and bad movies, everything has to be in 3D. The problem I see now is that instead of it being a filmmaker issue, it's a matter of the studios [trying] to make money and pushing 3D to directors who are not comfortable or do not like 3D." In the interview, Cameron reportedly cited "Man of Steel" and "Iron Man 3" as movies that were "spectacular" already and didn't necessarily need additional bells and whistles like 3D.
Cameron, of course, isn't alone in that thought process. J.J. Abrams, who directed this summer's "Star Trek Into Darkness," famously didn't want that film to get released in 3D. It, however, was.
PHOTO GALLERY
Celebrity News & Photos
Calling all HuffPost superfans!
Sign up for membership to become a founding member and help shape HuffPost's next chapter