Sarah Connor will be back.
Linda Hamilton, who played the waitress-turned-action-hero in 1984′s "The Terminator" and its 1991 follow-up "Terminator 2: Judgment Day," will reunite with James Cameron on a sequel to the franchise, The Hollywood Reporter reported Tuesday.
The director, who was married to Hamilton from 1997 to 1999, announced the news at a private event celebrating "Terminator."
"As meaningful as she was to gender and action stars everywhere back then, it's going to make a huge statement to have that seasoned warrior that she's become return," he said.
Details of the new "Terminator" project are scant. "Deadpool" director Tim Miller is on board, and he and Cameron reportedly intend to treat the new film as a sequel to "Judgment Day" and spar, once again, with the potential ills of technology. Original robot bad guy Arnold Schwarzenegger is also set to return to the story, which THR says is planned out as a trilogy.
"There are 50-year-old, 60-year-old guys out there killing bad guys, but there isn't an example of that for women," Cameron said at the event.
Seeing Hamilton, 60, carry an action franchise would be pretty badass, but Cameron said that the new "Terminator" crew is also "starting a search for an 18-something woman to be the new centerpiece of the new story."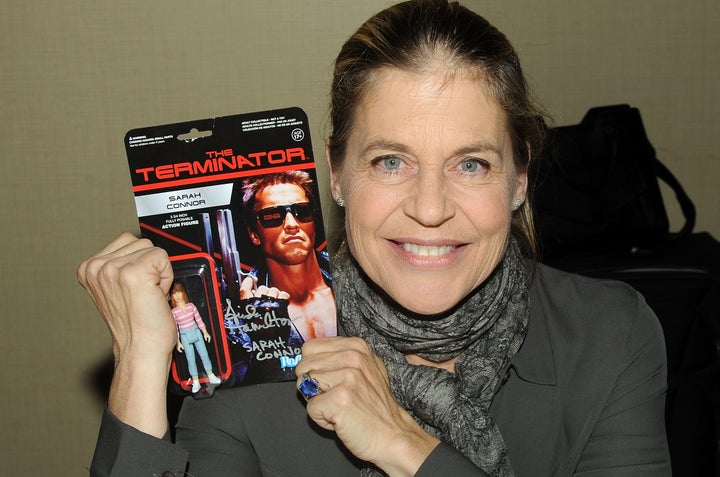 "We still fold time," he said. "We will have characters from the future and the present. There will be mostly new characters, but we'll have Arnold and Linda's characters to anchor it."
Cameron is right about the dearth of cool roles available to older women compared to their male counterparts — 65-year-old Liam Neeson practically has to beg not to be cast in another "Taken" — but the comments feel somewhat flat after the "Titanic" director's recent controversial assessment of the female-directed "Wonder Woman" as "self-congratulatory."
"She's an objectified icon, and it's just male Hollywood doing the same old thing!" he told The Guardian in an interview. "I'm not saying I didn't like the movie but, to me, it's a step backwards."
"Sarah Connor was not a beauty icon," Cameron added. "She was strong, she was troubled, she was a terrible mother, and she earned the respect of the audience through pure grit."
"Wonder Woman" director Patty Jenkins was quick to hit back on Twitter: "James Cameron's inability to understand what Wonder Woman is, or stands for, to women all over the world is unsurprising," she wrote.
The box-office success of the Gal Gadot–led superhero film showed industry giants there was a hunger for — and money to be made from — women-centered stories outside of the typical rom-com or family film sphere. Let's hope Cameron takes this momentum to a bold new place instead of, well, the same old Hollywood thing.
REAL LIFE. REAL NEWS. REAL VOICES.
Help us tell more of the stories that matter from voices that too often remain unheard.
BEFORE YOU GO