As far as acclaimed artists go, James Castle is somewhat of an anomaly. For one, he was raised on a farm in rural Garden Valley, Idaho and spent most of his adult life in Boise. Furthermore, he was born deaf and never learned sign language. The only way Castle could communicate, from his birth in 1899 until his death in 1977, was through the artwork he created.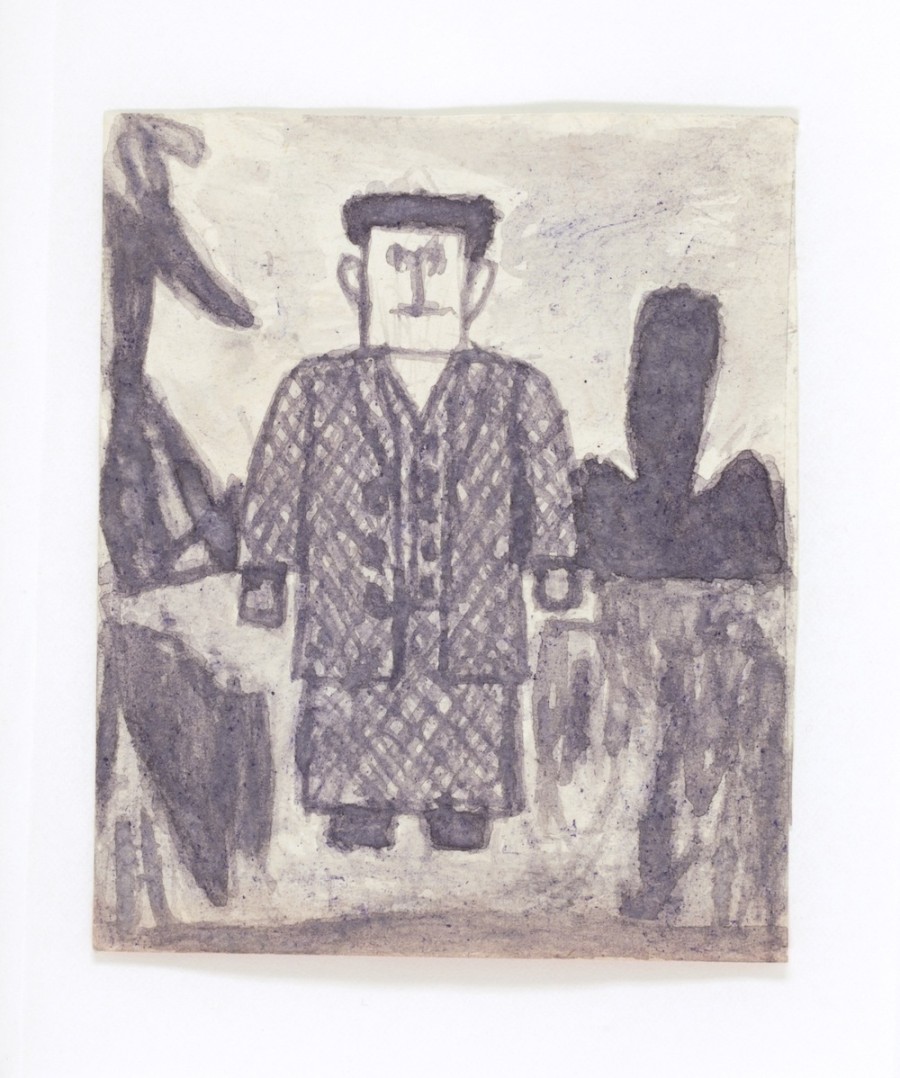 James Castle, Untitled, n.d., found paper and color of unknown origin
And yet, Castle doesn't quite fit the mold for what we retroactively refer to as outsider art. As Ken Johnson wrote in The New York Times, his work is "not visionary, paranoid or obsessive," as is emblematic of most outsider artists. "He approached drawing, rather, with an almost scientific attitude." Although it's tempting to turn Castle's hearing disability into a singular tale of isolation and otherworldly genius, this reading is deceptively narrow.
Castle curated and sold his work during his lifetime; he was aware of his role as an artist and was able to support himself financially through his own work. He also was close with his family and even loved to watch television. "He was a regular guy in a lot of ways," Jacqueline Crist, managing partner of the James Castle Collection and Archive, explained in a panel discussion at the Smithsonian American Art Museum. "He found humor. He had compassion… He really was a regular guy who actually, you know, got to make art everyday."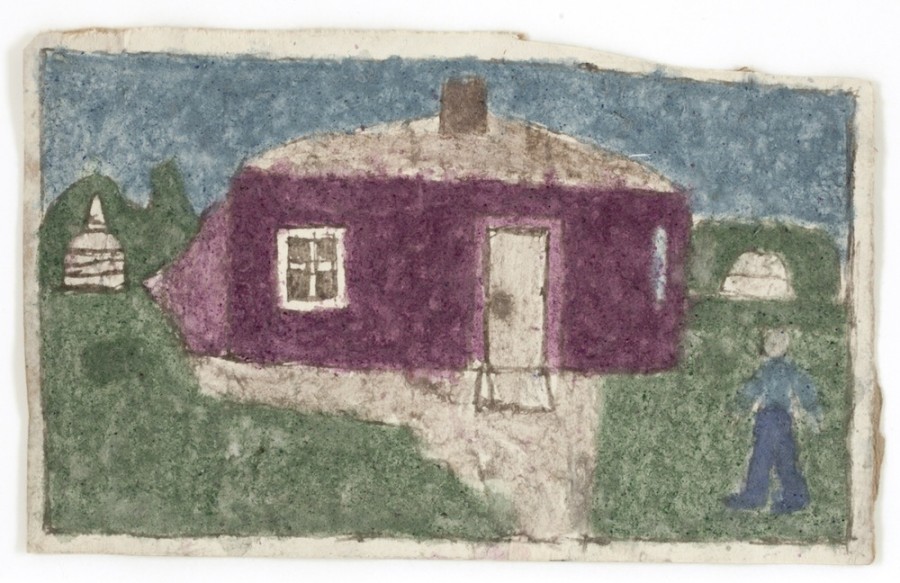 James Castle, Untitled, n.d., found paper and color of unknown origin
For nearly 70 years, Castle made art from the stuff of everyday life. In ink, he combined soot and saliva. To obtain color, he extracted dyes with water from pulped mail. For his canvases, he used advertisements, envelopes, newspapers, milk cartons, packaging materials and whatever else his family and neighbors would save for him. He'd often incorporate sticks, apricot pits, broken fountain-pen nibs and string into his multimedia works, echoing the hodgepodge techniques of famous contemporaries like Joseph Cornell and Robert Rauschenberg without the art historical knowledge to know so.
Castle's subject matter is as wide ranging as his artistic media. He rendered images of family members, fantastical calendars, pop cultural references, memories from his time at the School for the Deaf and Blind, and flashes of life on the farm. His hand is trusting and accessible, possessing a skilled grasp on the mundane details of reality without any steadfast allegiance to it. When Castle veers toward childlike abstraction, it's not for lack of ability. Rather his sophisticated eye gravitates toward a graphic minimalism that transforms stark details into a somber tableaux.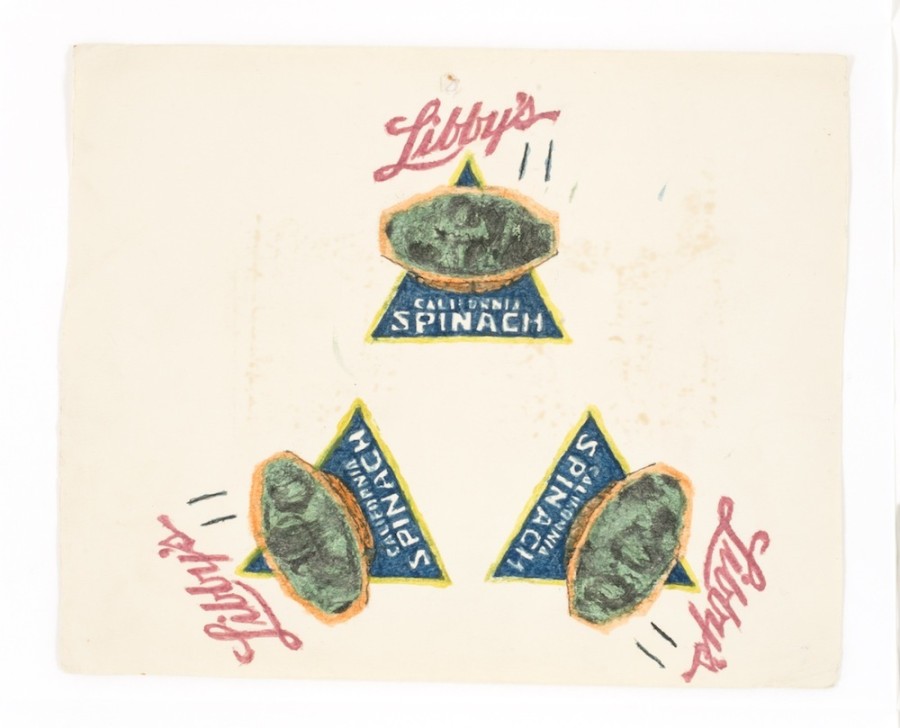 James Castle, Untitled, n.d., found paper, soot, color of unknown origin
"It's a body of work that, at first blush, might seem a little monotonous, but the more you look at it, the more you realize that it's infinite," commented Leslie Umberger, curator of folk and self-taught art at the Smithsonian American Art Museum in the same panel discussion. The Lynchian, shadowy visions suggest secrets tucked into the banal details of everyday life, details that, without proper attention, may never be communicated.
The Smithsonian American Art Museum in Washington D.C. acquired 54 of Castle's works in 2013. "Untitled: The Art of James Castle" features a selection of the artist's massive collection of works. The exhibition runs until February 1, 2015. A "Conservation of Our Collection: James Castle" Gallery Talk will take place on Wednesday, December 10, 2014 at noon. In the meantime, check out a preview of the stunning exhibition below.
Outside the Lines" is an ongoing series addressing the prickly genre sometimes referred to as outsider art.
Calling all HuffPost superfans!
Sign up for membership to become a founding member and help shape HuffPost's next chapter
BEFORE YOU GO