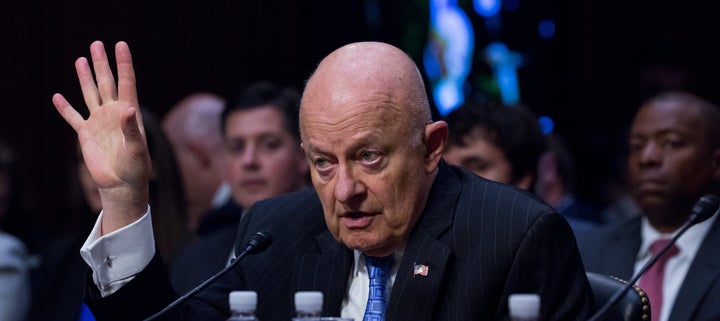 WASHINGTON ― Former Director of National Intelligence James Clapper said Sunday that "our institutions are under assault internally" by President Donald Trump, who is "eroding" the American system of "checks and balances" on political power.
"The developments of the past week are very bothersome, very disturbing to me," Clapper told CNN's Jake Tapper. "I think in many ways, our institutions are under assault externally and that's the big news here, is the Russian interference in our election system. And I think as well, our institutions are under assault internally."
Tapper asked Clapper if "internally" indicated Trump. "Exactly," Clapper responded.
Trump fired FBI Director James Comey this week, and told NBC News that he did so out of frustration with the agency's continued investigation into alleged Russian efforts to interfere in the 2016 election. Trump later tweeted that Comey should be careful about "leaking to the press," in case "tapes" of conversations between Comey and Trump exist. The tweet was widely interpreted as a threat to Comey. Sen. Lindsey Graham (R-S.C.) called the tweet  "inappropriate" during an appearance on NBC Sunday.
On Sunday, Clapper praised the American "system of three coequal branches of government" created by "the founding fathers" with "a built-in system of checks and balances."
"I feel as though that's under assault and is eroding," Clapper said, adding that congressional Republicans should publicly condemn the president's recent activities. "I hope they'll speak up," he said.
Clapper lied to Congress in 2013 about the Obama administration's mass surveillance activities, infuriating some Democrats and libertarian-leaning Republicans, some of whom called for the government to pursue perjury charges against him.
Calling all HuffPost superfans!
Sign up for membership to become a founding member and help shape HuffPost's next chapter