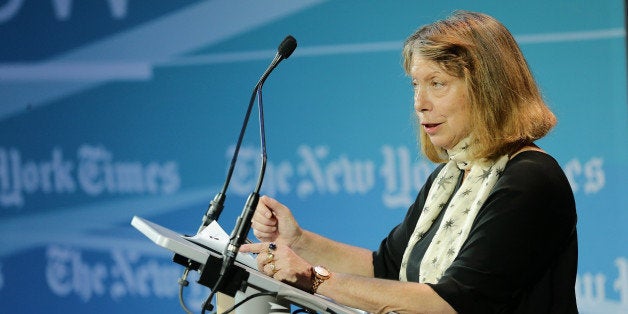 NEW YORK -- On the evening of Aug. 2, former New York Times executive editor Jill Abramson was on a crowded Metro North train, en route to her weekend home in Connecticut, when Director of National Intelligence James Clapper called with a stark warning.
The Times was prepared to report that U.S. intelligence had intercepted communications between al Qaeda leader Ayman al-Zawahiri and Yemen-based al Qaeda head Nasir al-Wuhayshi. In a speech Wednesday, Abramson said Clapper strongly urged her against publishing the two men's names. "'Jill Abramson, you will have blood on your hands if the Times publishes this story,'" she recalled him saying.
Abramson wasn't exaggerating for dramatic effect. Clapper's spokesman, reached by The Huffington Post, did not dispute her account of the conversation last summer. (The Daily Beast first reported on Clapper's comments from Abramson's July 9 speech, which can also be heard in full online).
In retrospect, Abramson told the audience at the Chautauqua Institution in upstate New York, she didn't regret withholding the names, a decision she described as "responsible in real-time." Two days later, McClatchy reported the names, which its reporters learned from sources in Yemen. The Times was seen as rationalizing its decision the following month in an odd front page story suggesting McClatchy's article may have undermined national security.
Abramson, who was abruptly fired in May, told attendees she could now "be a little bit more candid and honest" about how the press handles government requests to withhold information. She reiterated her past contention that the Obama administration is the "most secret" she's covered and indicated that Clapper may not have been the only administration official to issue such a dire warning.
"I've had Obama administration officials literally say, more than once, quote unquote, you will have blood on your hands if you publish this story," Abramson said.
During her speech, Abramson also recalled her experience as Washington bureau chief after the Sept. 11, 2001, terror attacks, and described a conference call between then-Bush White House press secretary Ari Fleischer and "every leading editor in Washington."
"The purpose of his call was to make an agreement with the press -- this was just days after 9/11 — that we not publish any stories that would go into details about the sources and methods of our intelligence programs," Abramson said. "I have to say, that in the wake of 9/11, all of us readily agreed to that."
Abramson said "it wasn't complicated to withhold such information," since the press has historically not published information about troop movements, the identities of covert agents, or details that could put someone's life in danger. "So we were thinking mainly about that," Abramson said. "And for some years, really quite a few years, I don't think the press, in general, did publish any stories that upset the Bush White House or seemed to breach that agreement."
Few major news outlets, with few exceptions, seriously challenged the Bush administration after 9/11 and in the run-up to the Iraq War. The Times, for one, continues to be dogged by its credulous reporting on weapons of mass destruction. Edward Snowden has said he didn't leak his cache of National Security Agency documents to the Times because the news organization held a blockbuster report on the the NSA's warrantless wiretapping for 13 months, until it apparently was forced to publish in December 2005 because Times reporter James Risen was going to reveal the program in a book.
Still, Abramson's comments were striking, seeming to suggest an "agreement" was hammered out privately between news executives and the Bush White House to make withholding information a policy.
In an interview with The Huffington Post, Abramson clarified that there was no strict agreement that dictated policy for The Times when it came to withholding information. She said she remembered that call, in which no news executives dissented from a White House request, as notable and reflective of an era when the press didn't push back hard enough.
"I think, in real-time, right after 9/11, none of us had a notion of what the 'war on terror' would involve and that there would be so many aspects of civil liberties that would be called into question," Abramson told HuffPost. "We were naïve."
Fleischer didn't recall a specific conference call with Abramson, but told HuffPost there were a number of conversations with news outlets at the time about not jeopardizing national security interests.
For instance, Fleischer recalled urging TV networks not to run Osama bin Laden videos in full, out of concern that that communiqués could include messages to potential sleeper cells. He said the White House also urged news outlets not to show pictures of the roof of the White House or release President George W. Bush's schedule too far in advance.
Leonard Downie, then the top editor of The Washington Post, said he didn't remember the specific call referenced by Abramson, and told HuffPost he wouldn't have made an open-ended agreement.
"I always explained to government officials our openness to such requests, which we took seriously, on a story by story basis, reserving the final decision to ourselves, as was the case before and after 9/11," Downie said.
Related
Before You Go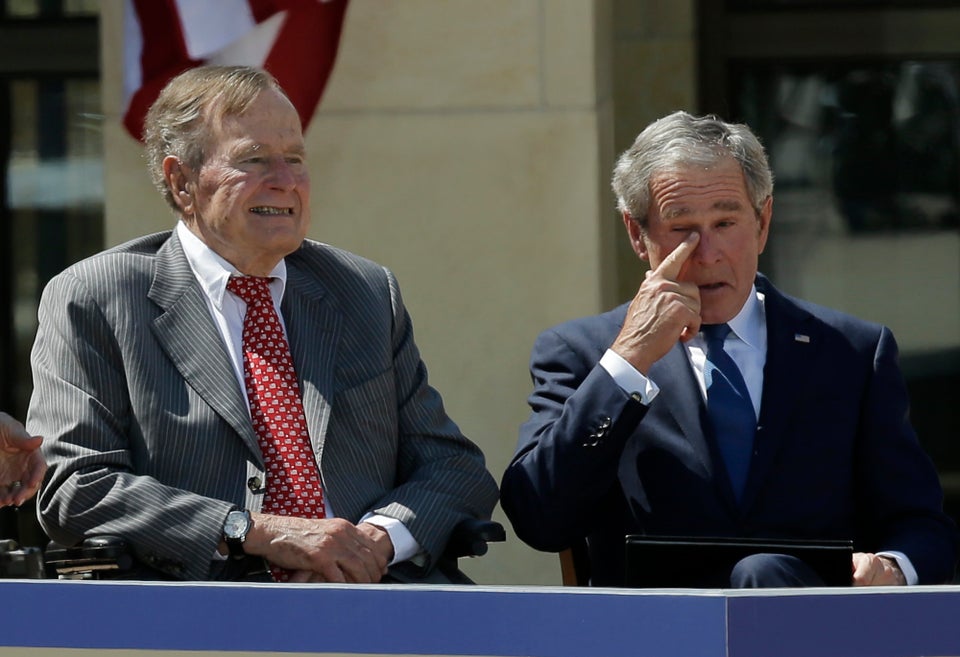 George W. Bush Presidential Library Ceremony
Popular in the Community