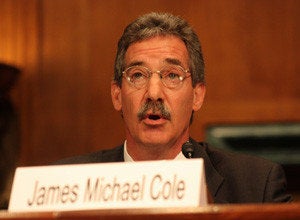 Over the last 30 years, no one has waited longer to take the number two position at the Justice Department.
For over five months, James Cole, a lawyer and longtime friend of Attorney General Eric Holder, awaited a Senate vote on his nomination to be deputy attorney general, the official who essentially runs the day-to-day operations of the powerful agency. But on Wednesday night, Senate Republicans blocked his confirmation, which sends it back to the White House since Cole wasn't confirmed before the chamber adjourns for the end of the year. President Barack Obama will have to renominate Cole if he wants him to be considered for the post.
Though his nomination was approved by the Judiciary Committee in July, it has been stalled by some Republican senators who have raised concerns about Cole's views on terrorism and his job as an independent monitor at AIG, the insurance giant that had to be bailed out during the financial crisis. And a nonprofit dedicated to protecting whistleblowers as well as former AIG employees have criticized Cole's nomination.
Cole previously angered Republicans through his work as the special counsel who probed Newt Gingrich for ethics violations in an investigation that led to a reprimand of the former House Speaker in 1997. And he has taken on some unpopular clients over the years -- representing Saudi Arabia's minister of the interior in a lawsuit brought by 9/11 victims, Enron's chief risk officer and Edwin Edwards, the former governor of Louisiana, who was sentenced to 10 years in prison on racketeering charges.
But it is his role at AIG, where he served as an independent monitor from 2005 through 2009, that has attracted recent scrutiny, especially since financial fraud and white-collar crime have become more of a focus at the Justice Department in the wake of the financial crisis and housing meltdown. Cole and his high-powered law firm, Bryan Cave, were paid $20 million by AIG as part of negotiated settlements with the Justice Department, Securities and Exchange Commission, and former NY State Attorney General Eliot Spitzer, over bid-rigging charges and accounting irregularities involving the insurance giant.
During his time at AIG, the firm dangerously ramped up its sale of credit-default swaps (essentially insurance) to investment banks, essentially betting big that the housing market wouldn't collapse. Those risky moves were undertaken at AIG's Financial Products division -- the head of which, Joseph Cassano, dubbed "The Man Who Crashed The World" by Vanity Fair's Michael Lewis, was investigated by federal prosecutors who declined to bring criminal charges in the end.
Several former AIG employees told The Huffington Post that Cole made a good first impression and seemed to take his job seriously in the beginning. "He would write these blistering reports about the lack of compliance and he really seemed to be on top of things," says one ex-staffer.
But Cole became more complacent over time, not effectively overseeing the firm, allowing AIG officials to review his quarterly reports to the SEC and declining to monitor AIG-FP despite increasing signs that that division was veering out of control, claim these former employees. This despite the fact that AIG-FP admitted committing securities fraud in 2004, only avoiding criminal prosecution after paying an $80 million fine and installing Cole as an independent monitor.
"It was either incompetence, negligence or fraud and I have nothing to indicate that it was fraud," says the ex-staffer.
Another former staffer was also encouraged at first by Cole's arrival but grew quickly disillusioned. "He was our last, great hope -- if he had done his job, maybe he couldn't have stopped the meltdown but at least he would have been able to raise the alarms and get some attention to what was happening."
Others who worked with him at AIG praise his role at the giant firm. One of AIG's outside lawyers, William H. Jeffress Jr. wrote to the Senate Judiciary Committee to express his support for the nomination, saying "In each and every instance where I observed his conduct, I have been highly impressed with his ability, his judgment, and his integrity. I cannot recall a single lawyer who dealt with Jim who came away with anything but the highest respect for him."
Cole declined to respond to HuffPost for comment, referring calls to the Justice Department, which cited Cole's written responses to questions about his role at AIG asked by Sens. Chuck Grassley (R-Iowa) and Tom Coburn (R-Okla.). The SEC did not return calls for comment about his monitoring of AIG. Spitzer declined comment when asked whether he supports Cole's nomination.
When Cole was asked by Grassley and Coburn about why he allowed AIG to review his reports, Cole claimed that such a step is "standard practice" in the private sector, adding that he only accepted AIG's revisions if they were "independently verified" by his team.
Cole also asserted that his role at AIG was limited and "did not include an evaluation of financial risk." When Grassley asked whether Cole's approval of a recommendation to exempt AIG-FP from oversight is "the exact opposite of independent review," Cole stated, "It must be understood that none of my recommendations would have resulted in AIG-FP monitoring itself."
He explained that the recommendation was only to ensure that hedge accounting rules are properly applied to the complex derivatives transactions engaged in by AIG-FP, adding "It did not involve an evaluation of the wisdom or risk aspects of entering into the derivatives transactions."
One ex-staffer was outraged at Cole's response. "So, what the hell was he doing there? Was it really just to create a records management system at AIG? He couldn't figure to spend his time where the money was and the risk was? How could you fail any bigger than he did? He had a three-year head start and the best he could do was nothing."
According to a Congressional Research Service report issued in May 2009 about Cole's performance, "One could argue that AIG's collapse in 2008 reflected a failure to manage any of these risks successfully. The Independent Consultant's report, however, does not include specific recommendations for managing these financial risks; rather, it deals with the processes by which risk evaluations at the individual business unit level are passed up the chain to the corporate risk management staff and how the central staff works with the local unit to design appropriate risk controls."
The report concludes that Cole's report focuses on accounting for risk rather than risk itself, "but in derivatives trading the two cannot be separated," and that such a hypothesis is weakened by the fact that every other giant financial firm in the world made similar mistakes in pricing risk before the crisis.
One of Cole's biggest critics has been the Government Accountability Project's International Reform Director, Bea Edwards, who has written numerous blogs about his nomination and his role at AIG.
"On his watch, everything went bad at AIG-FP in London," says Edwards. "He had every latitude to insure compliance of AIG with accepted accounting procedures and he abdicated having any oversight of AIG-FP ... if he didn't know what was going on there, it's because he didn't want to know."
Popular in the Community