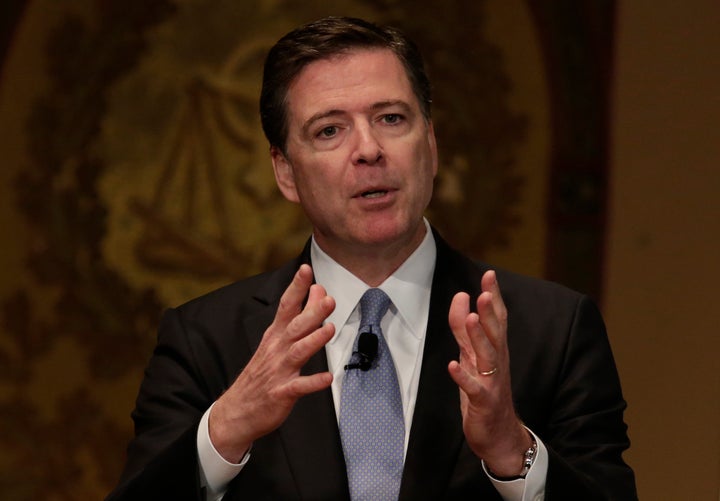 WASHINGTON -- FBI Director James Comey really does not want to generate headlines about an investigation that might help determine who becomes the next leader of the free world.
He spent most of a Wednesday press conference figuring out ways not to say anything about the ongoing FBI probe into Hillary Clinton's use of a private email server when she served as secretary of state. The biggest "revelation" on that topic was that Comey felt "pressure" to conduct the investigation "well and promptly" since the matter is of significant public interest.
But will the probe be wrapped up before the November election? He wouldn't answer.
If the FBI finds no reason to recommend any charges, will the bureau issue a report explaining its decision? "I don't want to say at this point," Comey said.
On other questions, he went with "I have no comment" or "I'm not going to comment." He also noted there was "no special set of rules" for anyone being investigated by the FBI.
Comey tried to sweep the matter off the table at the start of the gathering by declaring that he could not "talk about any pending investigation, to and including the investigation in connection with Secretary Clinton's use of a private email server."
"So you're welcome to ask me about that, but I promise you you're going to get the same answer, which is I'm not going to talk about a pending investigation and that I remain close to that investigation to make sure it's done well and it has the resources that are needed. As I've told you all before, my goal in any investigation is to do it well and do it promptly, especially investigations of intense public interest. All of that remains true. It remains under investigation, and there's nothing else to say about that," Comey said.
But that didn't stop the journalists from trying to get more answers.
Clinton, the Democratic presidential front-runner, is expected to be interviewed by the FBI in the coming weeks. Her campaign has downplayed the probe, describing it as a "security review" -- a term that Comey said he wasn't familiar with. He described it as an "investigation," noting that the word is in the bureau's name.
Comey, who donated to the presidential campaigns of John McCain in 2008 and Mitt Romney in 2012, said he wasn't "tethered to any particular external deadline" to complete the FBI's efforts.
"I understand the interest in this particular investigation, so I do feel the pressure to do it well and promptly," Comey said. "But between the two, we will always choose well."
Popular in the Community