WASHINGTON ― By next Tuesday evening, polls in many parts of the county will have closed, and the news networks will begin calling states for Donald Trump and Hillary Clinton.
But even with the urgency of a looming presidential election, it was unclear whether FBI Director James Comey will clean up the mess he created on Friday, when he broke tradition and told Congress the bureau had come across a batch of emails that may or may not give reason to revisit the investigation into Clinton's email practices as secretary of state.
It's undetermined whether the FBI or the Justice Department will disclose additional information about the recently discovered trove of emails linked to Clinton aide Huma Abedin before the election, law enforcement officials told The Huffington Post on Tuesday. The emails were found on a computer Abedin reportedly shared with her estranged husband, former Rep. Anthony Weiner, who is reportedly under FBI investigation for sexting with a teenager.
Investigators are reviewing the new emails to determine if they were part of the investigation that wrapped up in July, when Comey said the FBI would not recommend charges against Clinton. Many of the new emails ― and potentially all of them ― are believed to be duplicates of messages already cataloged by agents.
A Justice Department official told lawmakers in a letter on Monday that the department and the FBI would "dedicate all necessary resources and take appropriate steps as expeditiously as possible." Sen. Charles Grassley (R-Iowa), who chairs the Senate Judiciary Committee, gave Comey until Friday to answer detailed questions.
Attorney General Loretta Lynch, who with other Justice Department officials disagreed with Comey's decision to inform Congress about the new emails, talked with the FBI chief on Monday following a weekly national security briefing, an official said. Lynch is said to remain confident in the 6-foot-8 Comey's ability to do his job.
Comey ignored reporters questions as he left a memorial service for DOJ veteran David Margolis at the Justice Department building on Tuesday afternoon.
Clinton, who enjoyed a comfortable lead in the polls before Comey's disclosure, has taken to criticizing the FBI leader on the campaign trail.
It's unclear how the Clinton-Comey relationship would play out if she's elected. Comey would work under the attorney general Clinton nominates to replace Lynch. Comey, who was appointed FBI director by President Barack Obama in 2013, is allowed to stay in the job for 10 years.
In a note to FBI employees on Friday afternoon following his disclosure to Congress, Comey acknowledged that his letter could "create a misleading impression" and that there was "significant risk of being misunderstood."
But Comey told Congress previously that he'd provide updates on the Clinton email investigation and felt he had no choice, he explained. Though he clearly anticipated blowback, it's unclear whether he foresaw the withering extent of it.
When Comey was nominated to the FBI post in 2013, Daniel Klaidman reported in The Daily Beast that former George W. Bush administration officials saw in him "a streak of self-righteousness and a flair for melodrama" that had "clouded" his judgement. Comey was a deputy attorney general during Bush's presidency.
"If past is prologue, something will happen in the context of a legal, policy, or operational disagreement where Jim may get on the high horse and threaten to resign or take some other action unless things go the way he believes they should," a former DOJ official said of Comey at the time.
In breaking with federal law enforcement protocol and bucking his bosses to throw the presidential election into chaos just days before Election Day, that prediction seems particularly ominous.
So does a speech Comey gave to the Vera Institute of Justice nearly a decade ago, when he talked about the danger of law enforcement officials using their power irresponsibly.
"I never met ... a prosecutor I thought was bent on doing something wrong, bent on screwing the innocent, bent on some sort of evil act," Comey said. Instead, he said, mistakes are made by "flawed creatures" who are "at their most dangerous when they are certain their cause is just and certain that their facts are right."
Support HuffPost
The Stakes Have Never Been Higher
Before You Go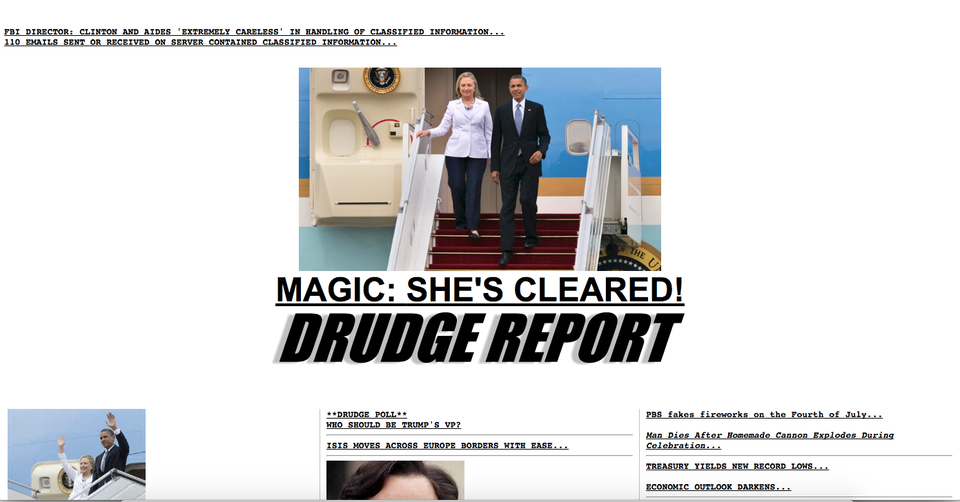 Media Roundup: FBI Recommends No Charges For Clinton
Popular in the Community