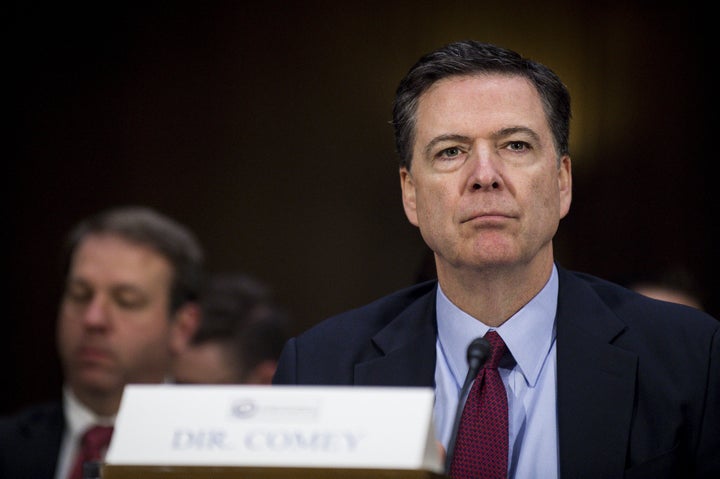 WASHINGTON ― Russian intelligence services, accused of orchestrating a hacking campaign to undermine the U.S. presidential election, did not successfully collect information from President-elect Donald Trump's campaign or the Republican National Committee's current server, FBI Director James Comey said Tuesday.
While Russian hackers gained "limited penetration of old RNC" computer systems "that were no longer in use," the FBI found no evidence that the Trump campaign or current RNC servers were hacked, Comey said.
Comey's assertion comes after several months of confusion about whether the hackers who stole and leaked thousands of emails from the Democratic National Committee also targeted its Republican counterpart and Trump, who was then the Republican presidential nominee.
A declassified version of an intelligence community report released last week concluded that "Russia collected on some Republican-affiliated targets but did not conduct a comparable disclosure campaign." It did not specifically address the RNC. According to the report, which was drafted by officials from the CIA, FBI and NSA, the goal of Moscow's cyber operations was to help Trump and to denigrate his opponent, Democratic nominee Hillary Clinton.
Previous media reports quoted unnamed government officials who said that Russia also hacked the RNC. 
RNC officials have long denied that their organization was hacked. Trump, who initially brushed off the intelligence community's belief that Moscow is to blame for the election-related hacks, said last week that it was DNC members' fault their emails were stolen.
According to the FBI director, Russia penetrated state-level GOP groups and campaigns, as well as an RNC domain that was no longer in use ― which could indicate an effort to access current emails belonging to the committee. Comey declined to say whether hackers attempted to infiltrate the Trump campaign's communications.
It was not immediately clear whether the hack of the old RNC domain, which Comey said is no longer in use, could expose longtime RNC officials to vulnerabilities. Reince Priebus and Sean Spicer, who both have roles in the incoming Trump administration, began working at the RNC in 2011. 
It is also possible that cyber attacks on state-level GOP entities could have yielded emails to and from current RNC officials, who likely communicate with state-level party members. 
DNC Interim Chair Donna Brazile said in a statement that Comey's revelation "offers further confirmation that the Russians selectively leaked information specifically to aid Trump and hurt Democrats." 
Comey testified Tuesday alongside Director of National Intelligence James Clapper, NSA chief Adm. Michael Rogers, and CIA Director John Brennan. It was the first appearance by senior intelligence and law enforcement officials before the intelligence committee since the release of the intelligence community's report last week.
Sen. Ron Wyden (D-Ore.) used the opportunity to question the FBI director about reported ties between Trump staffers and Russian President Vladimir Putin.
"Has the FBI investigated these reported relationships ― and if so, what are the agencies findings?" Wyden asked Comey.
"I would never comment on investigations ― whether we have one or not ― in an open forum like this," Comey responded.
It is true that the FBI typically remains silent about the existence and status of ongoing investigations. But less than two weeks before the election, Comey notified lawmakers that the FBI, which had completed its investigation of Clinton's emails months prior, was examining additional emails.
The letter Comey sent to Congress quickly leaked and created a political firestorm for Clinton. Her supporters fault the FBI director for using inadequate discretion and swaying public opinion at a critical time in the campaign.  
"The irony of your making that statement here, I cannot avoid ― but we'll move on," Sen. Angus King (I-Maine) said to Comey, a clear reference to his handling of the Clinton case.  
Senate Majority Leader Mitch McConnell, ignoring calls to assemble a select committee, has tasked the intelligence committee with investigating the election-related hacking. Committee Chairman Richard Burr (R-N.C.) said Tuesday he would lead an investigation into the still-classified intelligence underpinning the assessment the Moscow is to blame for election-related hacking. 
On Tuesday, Sen. Tom Cotton (R-Ark.) called on the intelligence committee to also investigate leaks to the media related to the hacks ― echoing a request from Trump last week. 
Burr responded that he and the vice chairman "are working on that right now."
Sen. Mark Warner (Va.), the ranking Democrat on the committee, did not immediately respond to a question about whether he would support a committee effort to investigate leaks to reporters.
This story has been updated throughout with additional information from James Comey's testimony.
CORRECTION: A previous version of this story misstated that Tom Cotton was a senator from Nebraska. He is from Arkansas.
Calling all HuffPost superfans!
Sign up for membership to become a founding member and help shape HuffPost's next chapter
BEFORE YOU GO