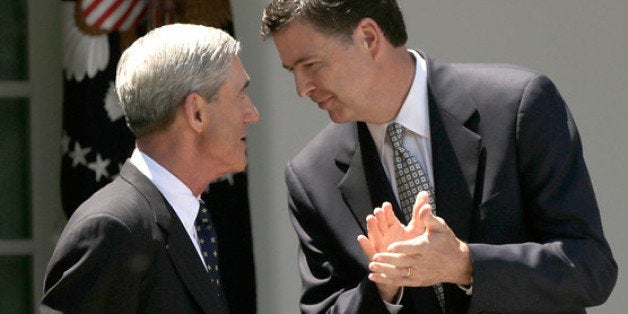 WASHINGTON -- James Comey has a "hard time imagining" the Federal Bureau of Investigation will shift any resources away from counterterrorism and toward other priorities in the coming decade, the new FBI director told reporters Thursday.
Responding to a question from The Huffington Post, Comey indicated he doesn't anticipate the FBI will dedicate more time or money to the top priorities the bureau once had, before the attacks on Sept. 11, 2011.
"What I see now that I've been able to see more from inside is a metastasizing threat," Comey said during a sit-down with reporters at FBI headquarters in Washington. "We have been hugely successful against core al Qaeda, but I see the threat metastasizing, both the threat of al Qaeda associate groups around the world ... and the threat of what we call homegrown violent extremists."
Former FBI Director Bob Mueller took over the bureau just days before 9/11 and oversaw the its transformation into what he called a "threat-focused, intelligence-driven organization."
Comey's comments indicated he thought the FBI's reformatting was permanent, at least until he leaves the bureau in September 2023. He said he wanted to continue Mueller's work "to transform the bureau into an intelligence agency."
Comey was also asked about a recent report from the American Civil Liberties Union that argued the FBI was abusing its power and, essentially, running amuck. Comey said he would read the report with an open mind.
"I have not found any amuck -- walking or running amuck. I saw that they said we were a domestic intelligence agency, and I said, okay, good," Comey said. "I actually have found, and I said this to [ACLU Executive Director] Tony Romero actually at Bob Mueller's farewell, look, keep banging on us. I may not agree with you, but that push -- there's always a risk as a leader you'll fall in love with the sound of your own voice, so it's good to have that push from the outside."
Calling all HuffPost superfans!
Sign up for membership to become a founding member and help shape HuffPost's next chapter
BEFORE YOU GO
PHOTO GALLERY
9/11 Timeline