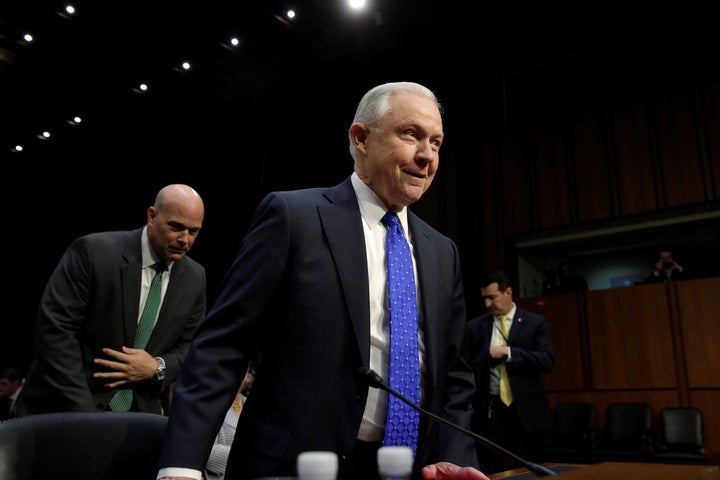 Sessions, appearing Wednesday before the Senate Judiciary Committee for a Justice Department oversight hearing, said he could not speak about certain communications he had with Trump earlier this year because the president had not yet decided whether he would invoke executive privilege. Trump's firing of Comey is part of the special counsel investigation of Russian interference in the 2016 election, which is being conducted by former FBI director Robert Mueller.
"I can neither assert executive privilege nor can I disclose today the content of my confidential conversations with the president," Sessions said during his opening statement before the committee. "Under the administration of both parties, it is well established that a president is entitled to have private, confidential communications with his Cabinet officials."
Sessions said he could not compromise Trump's future ability to assert executive privilege should Trump choose to do so down the line. Sessions also said he had not yet been interviewed by Mueller.
Sen. Dianne Feinstein (D-Calif.) asked whether, as Comey claimed in his Senate testimony, Trump had spoken about "lifting the cloud on the Russia investigation" in the context of his decision to fire Comey.
Sessions said the communication with the president remained confidential.
"I do not confirm or deny the existence of any communication between the president that I consider to be confidential," Sessions said.
Sessions did say that he believed Comey made a major error in his handling of the investigation of former Secretary of State Hillary Clinton. Sessions said it was wrong for Comey to publicly announce the closure of the investigation into Clinton ahead of the 2016 election. Deputy Attorney General Rod Rosenstein wrote a letter that recommended firing the former FBI director because he had usurped the Justice Department's authority when he announced the FBI had recommended the investigation into Clinton be closed.
"I don't think it's been fully understood the significance of the error that Mr. Comey made on the Clinton matter," Sessions said.
The new FBI director, Chris Wray, was confirmed by the Senate on Aug. 1 and formally sworn in during a ceremony at FBI headquarters last month.
Sessions also got into a heated exchange with Sen. Al Franken (D-Minn.), who had previously questioned the attorney general about his contacts with Russian officials. Franken said that Sessions was "moving the goal posts every time," referencing Sessions' shifting timeline of his interactions with Russian officials. Sessions said during a prior exchange with Franken that he did not have communications with Russian officials, though it was later revealed that Sessions did attend meetings with them present.
Sessions said on Wednesday that his prior answer was a good faith effort and that he was speaking only about the allegation that Trump campaign surrogates worked directly with Russian officials to influence the 2016 election. Sessions said Franken was being "totally unfair" to him and that he was "disappointed" that the senator was accusing him of misleading Congress about his contacts with Russian officials, calling Franken's framing of the topic "troubling."
Ryan Reilly is HuffPost's senior justice reporter, covering criminal justice, federal law enforcement and legal affairs. Have a tip? Reach him at ryan.reilly@huffingtonpost.com or on Signal at 202-527-9261.
Popular in the Community