National media outlets have covered virtually every angle of the story of former FBI Director James Comey's firing ― with the exception of how people who actually know Comey are taking the news. 
But local news outlets have delivered.
For an in-depth reported column published Friday in The Record, a newspaper in northern New Jersey, Mike Kelly traveled to Comey's hometown of Allendale to speak with the former FBI director's father and childhood friends.
The people he interviewed, many of whom remain in touch with Comey, describe a man of impeccable integrity who has become a hero of sorts in the affluent New York City suburb where he was raised.
"Anyone from Allendale that knows the family and grew up around him knows that he is a good person and has an honest character and has the utmost integrity," Patty Corn, a classmate of Comey's at Northern Highlands Regional High School, told the publication. "That doesn't leave you."
They rejected President Donald Trump's claims that Comey was a "showboat" motivated by his desire for self-aggrandizement.
"There's nobody in Washington that I respect more for his integrity," said former Republican Mayor Vincent Barra. "I think it's unfortunate that he got caught in this whirlwind of Hillary Clinton and Donald Trump."
There's nobody in Washington that I respect more for his integrity.

Vincent Barra, former mayor of Allendale
James Brien Comey Sr., the father of the former FBI director, is a retired vice president of the aerospace manufacturer Curtiss-Wright. He once served as a councilman for the borough of Allendale, where he still lives.
The elder Comey is a lifelong Republican, but said he left the top of the ballot blank in 2016 because he couldn't bring himself to vote for Trump. 
"I never was crazy about Trump," Comey Sr. said. "I'm convinced that he's nuts. I thought he belonged in an institution. He was crazy before he became president. Now he's really crazy."
Chris Kunisch, whose family has owned and operated the Allendale Bar and Grill for three generations, said he would like to see Comey run for office.
"We haven't seen the last of Jim Comey," Kunisch said. "Who's not to say he could be president someday? I think he's going to emerge out of this and be whatever he wants to be."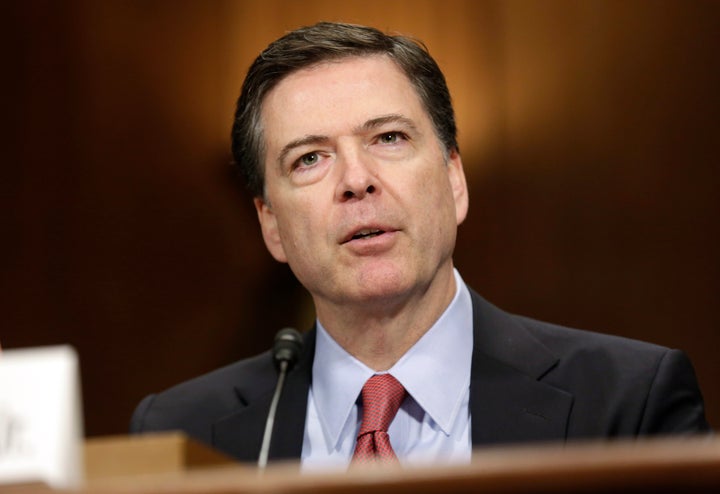 Even acquaintances of Comey have fond memories of him. Comey was a regular at Village Bagels in Westport, Connecticut, according to Westport News. Comey moved to the area in 2010 to serve as general counsel for the investment firm Bridgewater Associates.
Abdul Khedira, the bagel shop's manager, remembered Comey as a "super nice" guy who may have been pushed out of his job because of his integrity.
"I think [Comey] is very independent. Quite independent. Nobody will blackmail him," Khedira told the Westport News.
Democrats and some Republicans have suspected the president of trying to silence the investigation into his campaign's connections to Russia, considering that Trump fired Comey just days after the then-FBI director testified to Congress about the investigation and that the White House has been inconsistent in its justifications for the ouster.
A series of leaks about Trump's conversations with Comey and private comments about the firing have only heightened suspicion about the president's conduct. In the same conversation with Russian officials in which Trump reportedly called Comey a "real nut job," he claimed that the firing had relieved "great pressure" that he had been under over the Russia investigation.
In a bid to shore up confidence in the investigation into Russian influence in the U.S. election, Deputy Attorney General Rod Rosenstein on Wednesday appointed former FBI Director Robert Mueller as a special counsel to oversee the probe.
Comey has also now agreed to testify before the Senate Intelligence Committee in a public hearing, the committee announced on Friday.
REAL LIFE. REAL NEWS. REAL VOICES.
Help us tell more of the stories that matter from voices that too often remain unheard.
BEFORE YOU GO
PHOTO GALLERY
Donald Trump Meets With Russian Officials