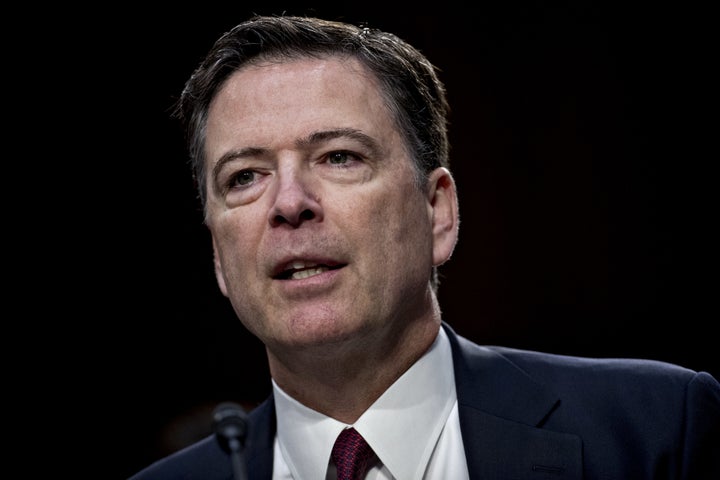 Former FBI Director James Comey will be spending a lot of time speaking to Howard University students this year.
The historically black college announced Wednesday that Comey will be delivering the keynote speech at the school's opening convocation to welcome the class of 2021 on Sept. 22.
The HBCU has also appointed Comey as its endowed chair in public policy for the school year, which requires him to lead a series of five lectures. Comey will be donating the $100,000 from the endowment fund to a scholarship fund for Howard students who've come from foster care, according to a press release.
"I am pleased to welcome Mr. Comey to Howard," university President Wayne A.I. Frederick said in a statement. "His expertise and understanding of the challenges we continue to face today will go a long way in sparking rich discussion and advancing meaningful debates across campus."
Comey said that it is an honor to hold the position this year.
"Howard has a longstanding history of being a vibrant academic community and the perfect place to have rich dialogue on many of the most pressing issues we face today," he said in a statement. "I look forward to contributing to this remarkable institution and engaging students and faculty alike."
The black community has a complicated ― and often deadly ― history with the FBI. During the 1960s, the government agency regularly used invasive tactics to infiltrate and sabotage black rights groups and their leaders' work and lives.
Comey, who was appointed by President Barack Obama in 2013, acknowledged that law enforcement has been "unfair" to certain groups during a 2015 speech on race and policing. He also addressed the lack of diversity in the FBI as a "crisis" during a speech at Bethune-Cookman University, another historically black college, in 2016. He said that the agency "will be less effective for the American people" if they don't increase their efforts to recruit agents of color. 
However, in 2016, he endorsed the "Ferguson effect" ― the theory that increased scrutiny of police has made officers "less aggressive" and criminals more "emboldened" ― when he said that the "viral video effect could well be at the heart" of the spike in violence in some cities. 
"There's a perception that police are less likely to do the marginal additional policing that suppresses crime — the getting out of your car at 2 in the morning and saying to a group of guys, 'Hey, what are you doing here?'" he told The New York Times.
As FBI director, Comey received backlash after reopening an investigation into Hillary Clinton's use of a private email server as secretary of state ― an announcement many believed cost her the presidential election. In May, President Donald Trump fired Comey, who was leading an FBI investigation into whether Trump's campaign colluded with Russia to influence the outcome of the 2016 election. 
REAL LIFE. REAL NEWS. REAL VOICES.
Help us tell more of the stories that matter from voices that too often remain unheard.
BEFORE YOU GO
PHOTO GALLERY
Photos From James Comey's Testimony