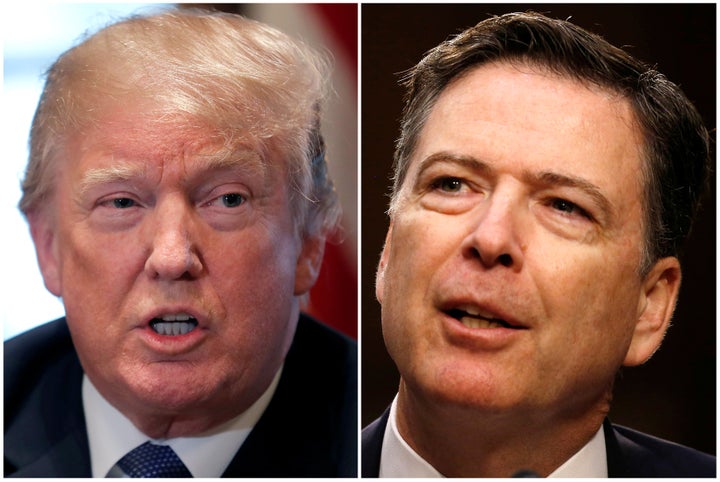 WASHINGTON ― Former FBI Director James Comey ― whom Hillary Clinton blames for her 2016 Electoral College loss ― writes in his upcoming book that he thought the former secretary of state would defeat Donald Trump and concedes that assumption might have affected the way he handled the Clinton email probe.
HuffPost obtained a chapter of the book, A Higher Loyalty, which is set to be released Tuesday, that focuses on Comey's handling of the Clinton email probe. In the book, Comey writes that he's replayed the way he handled the Clinton email investigation in his mind "hundreds of times" and that he understands Democrats were "baffled" and "outraged" at the actions he took.
Comey details the decision he made in the final days of the 2016 campaign to send a letter informing Congress that the FBI was examining newly discovered emails ― found on former Rep. Anthony Weiner's laptop ― that may have been relevant to the Clinton email investigation that had been closed months earlier.
The letter to Congress made its way to the media "in about ten minutes, which in Washington was about nine minutes later than I expected," Comey writes. His world, he says, "caught back on fire."
Comey concedes that, unconsciously, the near-universal consensus at that point that Clinton would roundly defeat Trump could have affected his decision-making:
I was surprised when Donald Trump was elected president. I had assumed from media polling that Hillary Clinton was going to win. I have asked myself many times since if I was influenced by that assumption. I don't know. Certainly not consciously, but I would be a fool to say it couldn't have had an impact on me. It is entirely possible that, because I was making decisions in an environment where Hillary Clinton was sure to be the next president, my concern about making her an illegitimate president by concealing the restarted investigation bore greater weight than it would have if the election appeared closer or if Donald Trump were ahead in all polls. But I don't know.
Debates within the FBI about the decision, Comey writes, "kept coming back to the same place: the credibility of the institutions of justice was at stake."
Assuming, as nearly everyone did, that Hillary Clinton would be elected president of the United States in less than two weeks, what would happen to the FBI, the Justice Department, or her own presidency if it later was revealed, after the fact, that she was still a subject of an FBI investigation? What if, after the election, we actually found information that demonstrated prosecutable criminal activity? No matter what we found, that act of concealment would be catastrophic to the integrity of the FBI and the Department of Justice.
Comey writes that he was also concerned there could be leaks out of the FBI's New York field office, although he said he didn't base his decision on the prospect of the news leaking out. He writes that former Attorney General Loretta Lynch also suggested the news might have leaked out before the election anyway if Comey hadn't sent his letter.
His wife had wanted Clinton to be the first woman president, Comey writes, and he's still haunted by the notion that decisions in the final days of the election could have swayed things.
"I hope very much that what we did ― what I did ― wasn't a deciding factor in the election. I say that with a wife and daughters who voted for Hillary Clinton and walked in the 2017 Women's March in D.C. the day after Donald Trump's inauguration," Comey writes.
Comey's wife, he said, understood what he did, but "resented the fact that I had to stand out front and take another hit." She said it was like he was "stepping in front of the institution to get shot."
The former FBI director writes that he's "sorry that I couldn't do a better job explaining to her and her supporters why I made the decisions I made."
Comey did get some private support from Democrats. He writes that Sen. Chuck Schumer (D-N.Y.) tearfully told Comey he knew he was "in an impossible position."
But Lynch, Comey says, didn't offer any direct endorsement of his decision during a meeting right before the election, on Oct. 31. Comey describes an awkward hug between himself and Lynch, who is roughly 18 inches shorter than he is, in great detail.
"I want you to know that nothing ― nothing ― has happened in the last year to change my view."
"When our bodies came together, her face went into my solar plexus as she wrapped her arms around me. I reached down and pressed both forearms, also awkwardly, against her back," he writes.
Lynch, Comey says, didn't tell Comey he'd done the right thing or thank him for taking the heat. And when the meeting ended, Lynch told him to "try to look beat up."
"She had told somebody she was going to chew me out for what I had done. What a world," he writes.
Ultimately, Comey says that he wouldn't have done things differently, even with what he knows now, but that he "can imagine good and principled people in my shoes making different choices about some things." He thinks "different choices would have resulted in greater damage to our country's institutions of justice, but I'm not certain of that. I pray no future FBI director is forced to find out."
Comey also recounts meeting with Obama in the Oval Office in late November, after Trump was elected. He says when the meeting broke up, Obama asked him to stay behind.
"I picked you to be FBI director because of your integrity and your ability," Comey says Obama told him. "I want you to know that nothing ― nothing ― has happened in the last year to change my view."
Comey said those were the words he "needed to hear" and that even though Obama wasn't necessarily saying he agreed with Comey's decisions, he was indicating he knew where they came from. Comey said hearing Obama's words brought on "a wave of emotion" and left Comey almost on the verge of tears.
"That means a lot to me, Mr. President," Comey says he told Obama. "I have hated the last year. The last thing we want is to be involved in an election. I'm just trying to do the right thing."
Comey writes that while he didn't support Obama when he first ran, by November 2016 Comey had "developed great respect for him as a leader and a person" and realized at that moment the "full weight of his imminent departure" and what that meant.
"Mr. President, my wife would kill me if I didn't take the opportunity to thank you and to tell you how much I'm going to miss you," Comey says he told Obama. "I dread the next four years, but in some ways, I feel more pressure to stay now."
Comey says Obama didn't respond. "Instead he patted me on the arm, then we rose and shook hands, and I walked out of the Oval Office," Comey writes. "Soon that same office would have a new and very different occupant."
Ryan Reilly is HuffPost's senior justice reporter, covering the Justice Department, federal law enforcement, criminal justice and legal affairs. Have a tip? Reach him at ryan.reilly@huffpost.com or on Signal at 202-527-9261.
Popular in the Community