The prepared congressional testimony of ousted FBI Director James Comey is the closest documentary evidence the public has seen that President Donald Trump behaved in ways that could be grounds for impeachment, if not criminal obstruction of justice, according to some legal scholars.  
The Senate Select Committee on Intelligence released Comey's prepared remarks ahead of his public testimony on Thursday, which is bound to unsettle the White House and distract from Trump's agenda in his still relatively young presidency.
In Comey's statement, he confirms many of the bombshell reports circulating in the press since Trump fired him on May 9: that Trump met with him one-on-one an unusual number of times; that Trump asked Comey for his "loyalty" in a conversation about Comey's future at the helm of the FBI; and that Trump repeatedly lamented the "cloud" the FBI's investigation of Russia had put over his presidency. What's more, Comey testifies, he wrote detailed memorandums following each unsavory encounter.
But it was Comey's recollection of Trump's remarks about former national security adviser Mike Flynn — and Trump's request to drop the FBI's investigation into Flynn's ties to the Russian government — that is perhaps the most damning part of what the fired law enforcement official is expected to be asked about during his testimony on Thursday.
On top of Trump insisting that Flynn hadn't done anything wrong and that he had "been through a lot," Comey recalls Trump asking him point blank: "I hope you can see your way clear to letting this go, to letting Flynn go. He is a good guy. I hope you can let this go."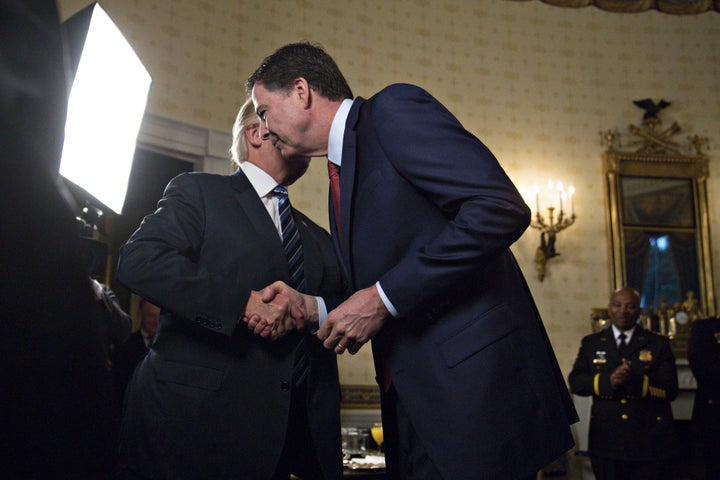 Noah Feldman, a Harvard law professor who noted in May that a memo Comey wrote describing that Feb. 14 encounter amounted to an impeachable offense, reiterated his assessment in light of Comey's expected testimony.
"With respect to influencing the Flynn investigation, my view remains the same: potentially impeachable but very almost certainly not indictable," Feldman said. 
That's despite the fact that Comey officially corroborated what looks like Trump attempting to interfere with an ongoing investigation into Flynn. But the reason it isn't criminally indictable has less to do with the law and more to do with constitutional limits on prosecuting sitting presidents.
Some experts, however, wasted no time in determining that Trump's behavior met this definition. Jeffrey Toobin, a senior legal analyst for CNN, who once served as federal prosecutor, rattled off the public information on Trump's conduct in light of Comey's version of events, then said, "If that isn't obstruction of justice, I don't know what is."
Norm Eisen, who served as special counsel for ethics in the Obama White House and is now a leading critic of Trump's business conflicts, came to a similar conclusion.
Other scholars were more circumspect but no less scathing in their criticism of Trump's conduct.
Benjamin Wittes, editor-in-chief of the Brookings Institution's Lawfare blog and a friend of Comey's, wrote that the former FBI director's testimony is "the most shocking single document compiled about the official conduct of the public duties of any President since the release of the Watergate tapes."
"Let's leave to another day whether anything the President did here amounts to any kind of obstruction of justice," Wittes wrote further along in his analysis. "It's poisonous stuff to a rule of law society that requires that law enforcement not be simply an arm of political power."
Preet Bharara, the former U.S. Attorney for the Southern District of New York and a prominent Democrat, echoed Wittes' sentiments.
Ultimately, it will be up to special prosecutor Robert Mueller to decide whether Trump's behavior constitutes some form of obstruction or a less egregious form of pressure. Barring a full-blown criminal prosecution, from which Trump is likely shielded by the Constitution itself, Mueller's determination could still lead to a political prosecution: impeachment proceedings.
Here's where Feldman and others who have written on the subject have been unequivocal: Nothing stops Congress from determining that what Trump did in his dealings with Comey amounted to "high crimes" for which he could be removed from office. Comey's testimony and Mueller's final findings from his special investigation — plus whatever the other four ongoing congressional probes uncover — could ratchet up pressure on Republicans in Congress to finally abandon the president.
"Using the presidential office to try to shut down the investigation of a senior executive official who was also a major player in the president's campaign is an obvious and egregious abuse of power," Feldman wrote of Trump's actions in May. "It's also a gross example of undermining the rule of law. This act is exactly the kind that the Founding Fathers would have considered a 'high crime.'"
Calling all HuffPost superfans!
Sign up for membership to become a founding member and help shape HuffPost's next chapter
BEFORE YOU GO
PHOTO GALLERY
Best Photos From Trump's First 100 Days