WASHINGTON ― Less than 24 hours after President Donald Trump fired FBI Director James Comey, hundreds of people gathered outside the gates of the White House to demand the appointment of an independent prosecutor to investigate alleged ties between Trump and Russia.
Speaking among chants of "wake up and smell the cover-up," Democratic National Committee Chairman Tom Perez said Democrats should refuse to confirm a new FBI head until the Department of Justice commits to a special prosecutor.
"You know you're in trouble when the Nixon Library is tweeting in an effort to distance themselves from this president," Perez said. "This is actually worse than the Saturday Night Massacre. Richard Nixon fired a prosecutor, he should not have done that. Donald Trump fired the investigator in that case. That has never been done."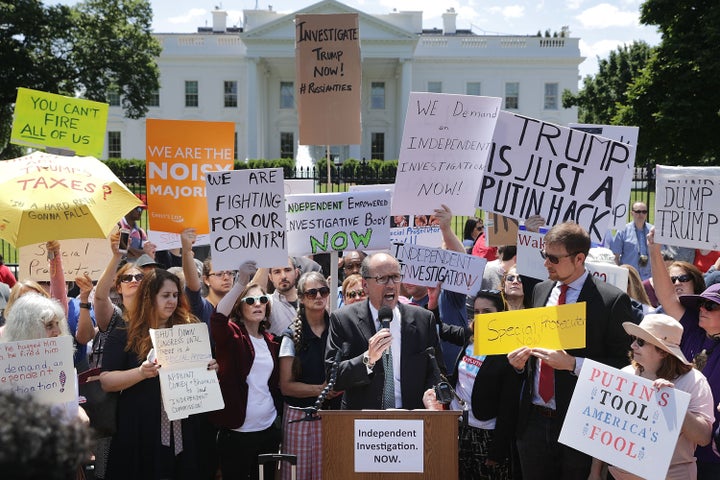 Trump fired Comey on Tuesday as he was investigating allegations of connections between the Trump campaign and Russia. Rod Rosenstein, the deputy attorney general, had recommended Comey's dismissal because of the way he handled an investigation into Hillary Clinton's use of a private email server. Trump said Wednesday that he fired Comey because he "was not doing a good job."
Standing beneath a neon sign that said "I call bullshit," Judi Casey said she wasn't a fan of Comey, but didn't think he should have been fired.
"I sat watching CNN all day yesterday. And I'm horrified by Trump's chutzpah, I don't know how else to say it, basically to destroy democracy and basically fire the investigator that's investigating him," she told HuffPost. "You can't do that. Trump is using this as intimidation and you're going to lose your job if you go against him."
Megan Sinesiou, from Falls Church, Virginia, said she came to the protest to show Trump that his meeting with Sergey Lavrov, Russia's foreign minister, was unacceptable.
"People are scared, rightfully. He's the one in charge of overseeing the investigation and the Trump-Russia ties, I believe in the Trump-Russia connection. It's not OK that he's meeting with Lavrov inside. It's not OK that Lavrov mocked this this morning, so that's why I'm here," she said in an interview as demonstrators nearby chanted "lock him up." During campaign rallies, there were often chants of "lock her up" as Trump suggested Clinton's use of a private email server was criminal.
Elizabeth Lane, an anti-trust lawyer, said she has been coming to the White House once or twice each week since the election. She worries that if the Department of Justice did appoint an independent investigator, it could be a Trump ally like New Jersey Gov. Chris Christie (R) or Rudy Giuliani, which would be "even more outrageous."
"I feel like he's pushing the envelope and trying to see what he can get away with. As a reality show star, that's his M.O. to try and create excitement and chaos. It's not entertaining to me and it's not funny. It's very serious and it's a crisis."
REAL LIFE. REAL NEWS. REAL VOICES.
Help us tell more of the stories that matter from voices that too often remain unheard.
BEFORE YOU GO
PHOTO GALLERY
Best Photos From Trump's First 100 Days