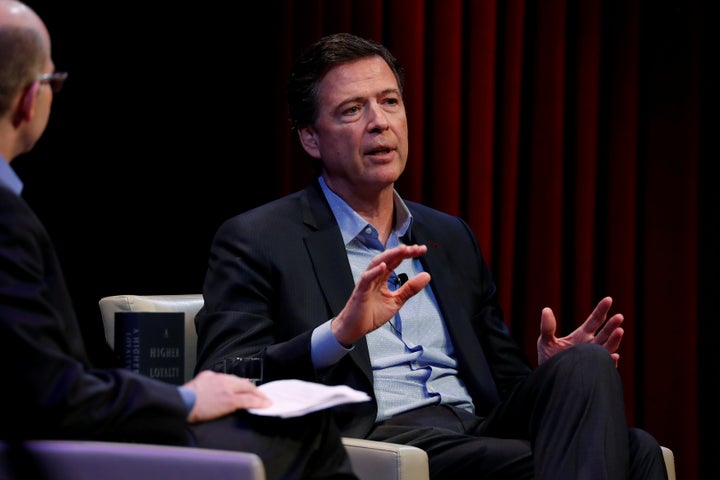 WASHINGTON ― Former FBI Director James Comey, who famously criticized former Secretary of State Hillary Clinton for using personal email, used his own personal email account and laptop to conduct FBI business, according to a report from the Justice Department's internal watchdog.
The DOJ inspector general's report released on Thursday found that Comey's use of a personal Gmail address was "inconsistent" with FBI policy. Comey, however, did not use his personal email to handle any classified information, the report said.
Comey told investigators he used his laptop and personal email when he needed "to word process an unclassified [document] that was going to be disseminated broadly," like a speech or an email to the whole organization, according to the report. His aide told investigators that Comey routinely deleted all emails from his Gmail account, and cleared the deleted messages folder as well.
"I had two phones ― a personal phone and a government phone," Comey told investigators. He said he used his own personal laptop for unclassified work, and said he saw no issues with using a personal laptop and personal email. Asked if his use of a personal email and personal device was in line with FBI regulations, Comey said he didn't know, but had the "sense" it was OK.
The inspector general found otherwise.
"We found that, given the absence of exigent circumstances and the frequency with which the use of personal email occurred Comey's use of a personal email account on multiple occasions for unclassified FBI business to be inconsistent with the FBI Policy Statement," the report said.
Read the DOJ inspector general's report below:
Ryan Reilly is HuffPost's senior justice reporter, covering the Justice Department, federal law enforcement, criminal justice and legal affairs. Have a tip? Reach him at ryan.reilly@huffpost.com or on Signal at 202-527-9261.
Popular in the Community