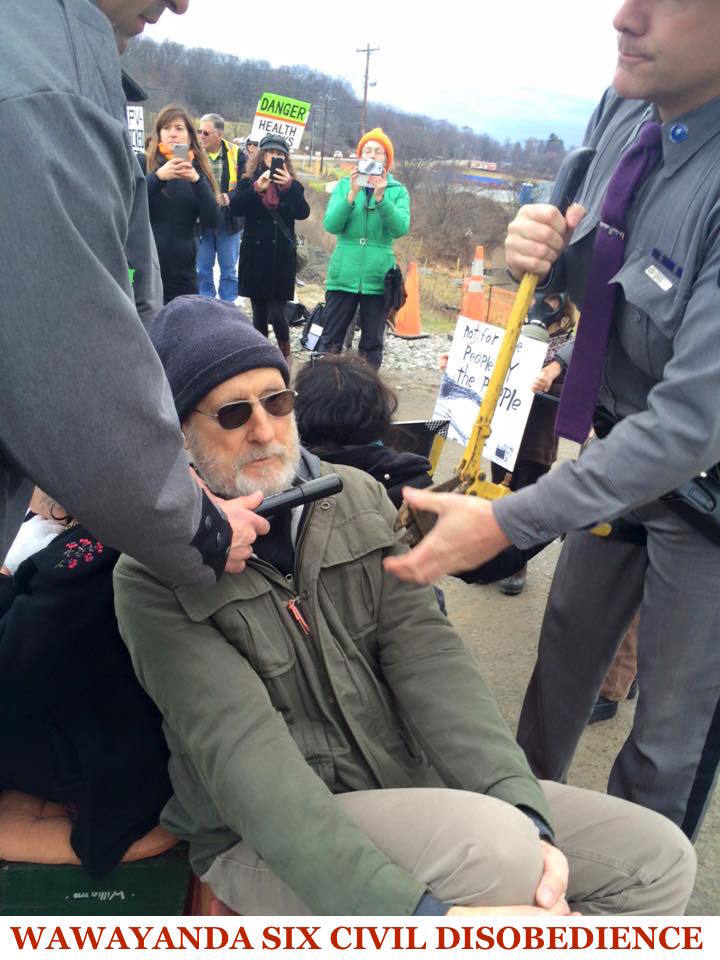 How far would you go to protect your home and the air that you breathe? In New York, three of the Wawayanda Six were willing to spend a week in prison at the Orange County Correctional Facility in Goshen, NY rather than pay a $375 fine (including surcharges) for an act of civil disobedience two years ago when they chained themselves together with bicycle locks to block the driveway of the Competitive Power Ventures (CPV) power plant for 27 minutes.
They wound up serving three days instead of seven, possibly because one of the three activist prisoners was actor James Cromwell.
Most will remember Cromwell as Farmer Hoggett who frequently said: "That'll do, pig" in the 1995 film, "Babe." For the last several years, he's been saying: "That won't do," to CPV over its construction of a shale gas power plant in Wawayanda, New York. The small town of Wawayanda is about 10 miles from Cromwell's home.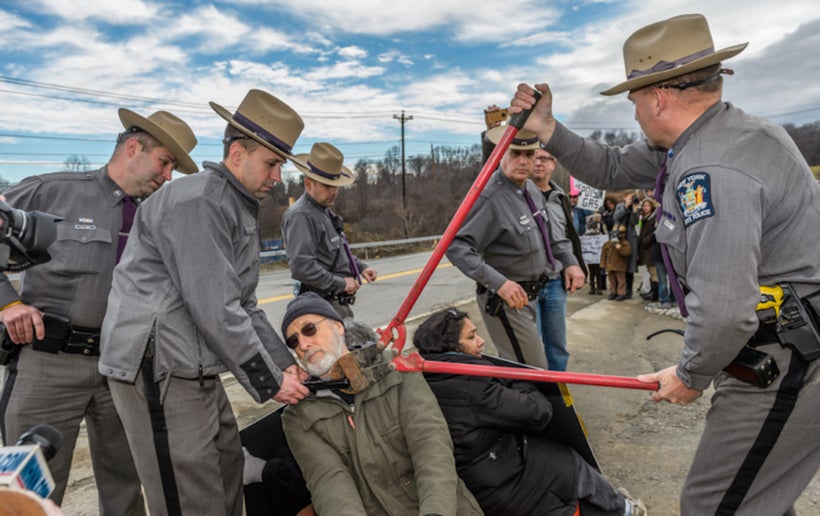 CPV and other venture capitalists who hope to make the entire country dependent on fracked natural gas claim natural gas is a bridge fuel to power our homes until greener, cleaner energy is available. Of course, we know that cleaner energy is already available - it's just not as cheap as fracked gas.
When I interviewed Cromwell and Malik last week about their efforts to stop the CPV power plant, they told me that the Natural Resources Defense Council has not attempted to help Protect Orange County fight CPV. Instead, it has ignored their pleas. Malik said she was alarmed to find what appeared to be an NRDC endorsement of the project on CPV's website in 2013. (The endorsement was later removed.)
The problem for NRDC appears to be due to conflicts of interest by Board Member and prominent Cuomo donor, Daniel Tishman, who also happens to be vice chairman of AECOM, which bought his real estate company in 2010. In 2011, AECOM employees came to Minisink and claimed that the then proposed compressor station would only emit water vapor. After the compressor station opened, residents began getting sick.
Malik said AECOM is heavily invested in shale gas development. The Millennium pipeline carries fracked gas from shale fields in Pennsylvania, travels along the southern tier of New York then goes to a large Interconnection facility in Ramapo. Fracked gas has co-contaminants and is highly radioactive.
Cromwell said: "There is no interface between ordinary people and levers of power in this country." He has visited the town of Dimock, Pennsylvania where people, animals and the town aquifer have paid a heavy price for  fracking. He said: "Our plant needs 150 wells a year every year. There are 1500 wells in eastern Pennsylvania, go online to see devastation in Dimock."
"The plant is the head of the snake, a precursor or raison d'etre of a build out or replication of these plants all over the US. Obama had this in his "all of the above" energy policy  and Clean Power Plan . . . " said Cromwell.
"Will Cuomo be a climate leader or a climate deceiver," asks Malick. "Voters deserve to know. . . . The Jacobson plan created a blueprint for NY state to transition to clean energy by 2050, but it takes political will to implement."  Both Susan Sarandon and Cromwell (in the below video) have made pleas to in Governor Cuomo to kill the CPV power plant by denying 401 Water Quality permit.
You can help by calling (518) 474-8390 to ask Gov. Cuomo to do the right thing by denying the permit. And New York and East Coast readers can join Protect Orange County on August 10 at a rally in Albany to urge Governor Cuomo to keep New York state frack-free.
The threat fracking poses to our air, water and health is real. If we don't stop the proliferation of fracked gas pipelines across the U.S., we may find ourselves as desperate as the characters in the Mark Hollman/Greg Kotis musical "Urinetown."
In the fictional Urinetown, only the isolated rich had easy access to drinkable water and flushing toilets.
Fracked gas may leave most of us paying for the "Privilege to pee." Below, Lindsay Kraft (age 16 at the time) is Penelope Pennywise singing "It's a Privilege to Pee" at The Acting Out Playhouse of Warwick, NY (Directed and Choreographed by Terry Odell, February, 2014).
Editor's note: This post originally stated Daniel Tishman was the CEO of AECOM. He is the vice chairman.
Calling all HuffPost superfans!
Sign up for membership to become a founding member and help shape HuffPost's next chapter
This post was published on the now-closed HuffPost Contributor platform. Contributors control their own work and posted freely to our site. If you need to flag this entry as abusive,
send us an email
.