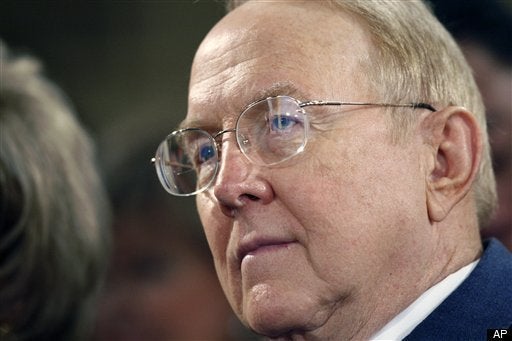 Contrary to most reports, one prominent evangelical thinks that iconic evangelical James Dobson was pushed out of Focus on the Family, the conservative group he founded, because he no longer squared with the image the group was trying to project.
Ken Hutcherson, who leads the Antioch Bible megachurch in Kirkland, Wash. and is a friend of Dobson, wrote an article for World Net Daily in which he says he "knows" that Focus on the Family's board of directors forced Dobson out of his radio show because they wanted to take a new, less divisive direction.
Hutcherson argues that Dobson, who is starting a new radio venture with his son, "did not want to stop his voice from being heard over the airway after turning over leadership to the new team."
Dobson has been phased out of the organization's everyday operations since 2003. He resigned his position as Chairman of Focus on the Family in February, 2009, but continued to do his radio show until February of 2010.
Hutcherson thinks parting ways with Dobson is part of a larger effort on the part of Focus on the Family to become "loved and understood."
As Talking Point Memo points out, Dobson seemed confused and troubled by the board's request that he stop doing his radio show, and has suggested it was part of a broader paradigm shift.
"[T]the board of directors voted privately on Wednesday -- before we got there -- to ask for my resignation, although their request was made with kindness and respect. We can only guess the reason for their decision because frankly I don't fully know," Dobson said during a November radio show. "But it apparently has to do with the desire for closure on my tenure and the beginning of another."
Focus donated $1 million to Dobson to start his new show.
In the article, Hutcherson was critical of Focus's new direction, and suggested that he should have been offered a leadership position in the organization.
Related
Popular in the Community