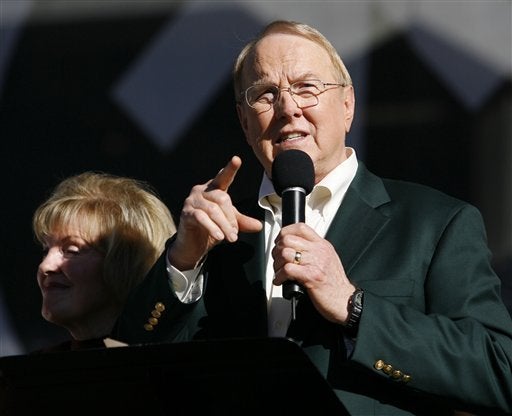 Another extremely influential anti-gay leader was caught with a male prostitute on their return from a 10 day European Vacation.
George Alan Rekers, founded the Family Research Council (FRC) with James Dobson in 1993. The FRC is the political arm of Dobson's more famous operation, Focus on the Family. The FRC is run by leading anti-gay advocate Tony Perkins.
Just how many other top, top leaders of the anti-gay movement in this country are big closet cases?
We all know the story of Ted Haggard, who was Senior Pastor at New Life Church and head of the National Association of Evangelicals. Haggard did finally admit to doing crystal methamphetamine with his male prostitute for three years. Haggard at first denied all charges, just like Rekers has done, but later admitted guilt and resigned from his Church and the NAE.
These men of God sure are quick to lie when they get caught.
Dobson was Ted Haggard's best friend until his mega-scandal. Now another Dobson crony is busted doing the same thing. Ummm?
I wonder just how much this trip cost? Let's see 10 days in Europe, first class all the way. I'd estimate at least $1000 per day for hotel and meals - Europe's expensive + business class air fare for two, another $15,000. That adds up to a lot of money.
Wow, wonder how all the hundreds of thousands of small donors to the Family Research Council and Focus on the Family feel about paying exorbitant fees and salaries to George Alan Rekers that he used to fly a male prostitute and himself to Europe for 10 days?
FRC head, Tony Perkins just last month attacked the Republican National Committee on CNN and in a press release, and suggested that RNC donors instead give money to his Family Research Council. Will Perkins now turn down contributions to his tainted organization?
It sounds like these "leaders" should not be bashing, belittling, and demonizing gay people. They will hurt the people closest to them.
Rekers is a father and supposedly a Foster Parent, and he has been the leading advocate against gays and lesbians being allowed to adopt in Florida and Arkansas. How dare he judge others? Just another in a long line of religious-based hypocrites
Today I sent a letter to Attorney General Eric Holder to formally request a full and complete United States Department of Justice Investigation of Mr. Rekers and all his activities. The investigation should include, but not be limited to, the finances and involvement of James Dobson, Focus on the Family as well as and Tony Perkins and the Family Research Council.
There seems to be a pattern here, and with so many problems around the close associates of James Dobson and Tony Perkins, we need to know the truth.
From the Focus on the Family web site: "...We provide help and resources for couples to build healthy marriages that reflect God's design, and for parents to raise their children according to morals and values grounded in biblical principles.

Letter to United States Attorney General Eric Holder
The Honorable Eric Holder
U. S. Department of Justice
950 Pennsylvania Avenue, NW
Washington, DC 20530-0001
Dear Attorney General Holder:
I would like to request a complete and thorough Justice Department Investigation of the reported questionable activities of Mr. George Alan Rekers.
I also seek a full and complete investigation of his past and current associates including James Dobson and his Focus on the Family of Colorado Springs, Colorado, and Tony Perkins and his Family Research Council of Washington, DC, an arm of Focus on the Family. All three men are very close.
There have been numerous reports of possible illicit activities. Here are just some of the publications that have covered the scandal: Washington Post; New York Daily News; Towleroad and the Miami New Times
Fred Karger
Founder
Californians Against Hate
Popular in the Community