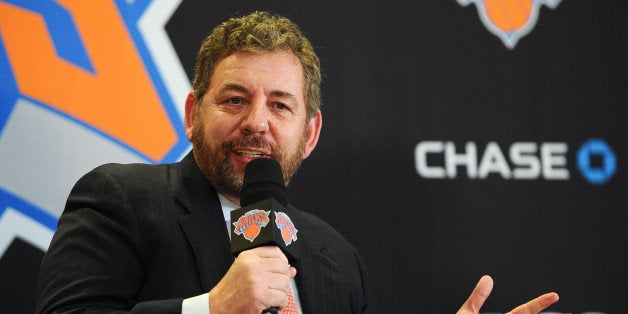 To the surprise of no one, New York Knicks inheritor James L. Dolan proved himself a bully and a jerk this week when he sent an email to a lifelong Knicks fan calling him a miserable person and an "alcoholic maybe." To further call his own intelligence into question, Dolan then told the fan (addressed as Mr. Bierman) to "start rooting for the Nets because the Knicks don't want you."
While the actions taken by Dolan come as no shock, the lack of action taken by NBA Commissioner Adam Silver creates a state of bewilderment.
Firstly, someone should remind Dolan that rooting for the Nets is a statistical upgrade over his woeful Knickerbockers. In fact, rooting for any other team would be an upgrade, as Dolan's Knicks currently have the worst record in the entire Basketball Association.
Perhaps Dolan was trying to do Mr. Bierman a favor. More likely, Dolan was just proving himself thoughtless and shortsighted, two traits that come as no revelation to any resident of the five boroughs. This franchise has been a consistent embarrassment for the near entirety of Dolan's reign, an era of futility that even prompted then-Commissioner David Stern to once admit the Knicks were "not a model of intelligent management."
The same can't be said for the muted response from the NBA league office. One would assume a franchise owner insulting loyal paying customers would be frowned upon. NBA Commissioner Adam Silver instead cleared Dolan of any wrongdoing, calling the Executive Chairman of the Madison Square Garden Company the "consummate New Yorker" (a statement that should send a shiver up the spine of true consumate New Yorkers). After all, argues Silver, it's Dolan's team, and he can do with it as he pleases. If that means turning it into the Eric Cartman Amusement Park, then so be it.
That sentiment isn't shared by NHL commissioner Gary Bettman, who once fined and suspended Washington Capitals owner Ted Leonsis for getting into it with a fan. Said Bettman at the time, "Even in those cases when there were instances of alleged provocation, we have made it clear that NHL personnel need to do everything possible to avoid a confrontation with fans and the failure to do so is not acceptable." Translation: don't fight the people who pay us.
Leonsis, it's worth noting, had the guts to apologize in the days following the incident, and later invited the fan to take in a game from the owners box. Perhaps if Leonsis had acted more like a consummate Washingtonian, Bettman would have let the whole thing slide.
Of course, the Silver sentiment isn't shared by NFL commissioner Roger Goodell either, who once fined Tennessee Titans owner Bud Adams a quarter of a million dollars for giving fans the finger (and when Roger Goodell is giving you lessons on morality, it may be time for a long hard look in the mirror). Like Leonsis before him, Adams too had the foresight to acknowledge a public apology was in order.
"I need to apologize for my actions yesterday near the end of the game," Adams said. "I got caught up in the excitement of a great day, but I do realize that those types of things shouldn't happen."
Translation: don't flick off the paying customers.
For those of you keeping score at home, Dolan has yet to apologize for his letter, or the current state of his Knicks.
And therein lies the head scratching moment in it all. Forget the precedent that had already been set by Bettman and Goodell (or any other corporate CEO who enforced the rule "don't insult the shoppers"). If Silver had come down hard on Dolan, he could have been this city's next mayor. Even just a harshly worded statement sprinkled with superficial consequences would have earned the rookie commish a standing ovation at this weekends NBA All Star Game.
Silver, however, is the one who has surprisingly let the fans down, and it is Silver whose reputation will ultimately suffer the most.
REAL LIFE. REAL NEWS. REAL VOICES.
Help us tell more of the stories that matter from voices that too often remain unheard.