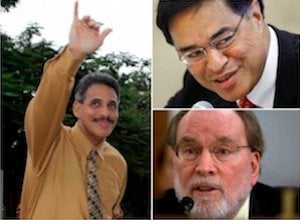 (AP) - The head of the Hawaii Republican Party is calling GOP Lt. Gov. James "Duke" Aiona the only "righteous" gubernatorial candidate while urging pastors to bar Democrat Mufi Hannemann from campaigning in their churches.
In an undated e-mail that came to light Sunday in three Hawaii political blogs, Jonah Kaauwai also wrote that a vote for Hannemann or Democrat Neil Abercrombie is "succumbing to fear and advancing unrighteousness."
The e-mail frequently cites Bible verses and uses other religious language to allege that Hannemann deceptively wants to visit church services to boost his support in the Sept. 18 Democratic primary.
"Duke will win because the church has been behind him the entire time operating in the POWER and the AUTHORITY of the NAME OF JESUS!" stated Kaauwai's lengthy e-mail.
If Hannemann and his aides ask to visit a church service, pastors should "rebuke them for trying to use your church as a platform for their deception and your personal influence to further unrighteousness," the GOP chairman wrote.
Kaauwai refused an interview request, but in a statement said it is no secret that the Christian community played a big role in shaping him and is an "important coalition of the Republican Party."
"I feel it is important that I continue to reach out to these groups and encourage their activity in the electoral process as well as inform them of the disingenuous actions of Mufi Hannemann or any campaign," the statement said.
Hannemann's and Abercrombie's campaigns chose not to comment Monday. There was no response to requests for comment from the Hawaii Democratic Party and the office of Gov. Linda Lingle, the highest-ranking Republican in the state.
In a statement Monday, Aiona said that while faith is central to his life, "I'm running for governor to serve all the people of Hawaii â€" regardless of their religion."
Aiona also said, "Kaauwai's personal comments are seen by many as divisive." Aiona did not say whether he agrees with that assessment.
John Carroll, a Honolulu lawyer who also is seeking the GOP gubernatorial nomination, contended that Kaauwai was wrong to use his party post by entwining religious doctrine with political issues on behalf of one candidate in a contested primary.
"If he's a parish pastor talking to his flock, that's one thing. But he's a Republican party chairman," Carroll said.
In his e-mail, Kaauwai noted that Hannemann is trying to drum up support by visiting congregations. But Hannemann, Kaauwai contended, "shows no signs of righteousness or being controlled by the Holy Spirit."
The GOP chair said that "through spiritual eyes," campaign contributions to Hannemann from public employee unions are tantamount to bribery and "an endorsement as an unholy OATH that Mufi and other politicians take" to remain in office.
Aiona's campaign is "Christ's opportunity," and his election would give Hawaii the first "righteous leader" since Queen Liliuokalani, who died in 1917," Kaauwai wrote.
Neal Milner, a University of Hawaii political scientist, said the terminology Kaauwai used is comfortable to many people, but could upset others not familiar with it.
"It's not the language so much," he added. "It's the way that it gets used in such a pointed, negative way against a candidate."
Rob Boston, senior policy analyst with Americans United for Separation of Church and State, a Washington D.C. group, said Kaauwai's e-mail "looks like a document you would receive from your church pastor, not like something that would come from a party official."
"Are there no non-Christians in the Hawaii Republican Party?" said Boston.
Popular in the Community