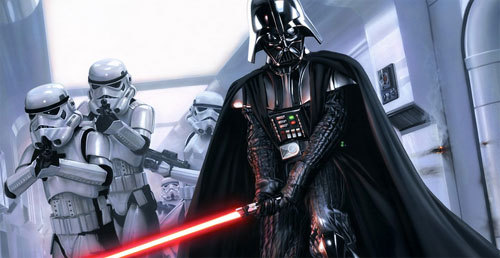 Better yet, to make sure Darth sounds exactly he did in the original Star Wars trilogy, Lucasfilm Animation persuaded James Earl Jones to come back and voice Vader.
Given that it had been a decade or more since James had last done any voice work for a Star Wars -related project, Jones reportedly expressed some concerns as he stepped up the mic to once again voice this classic screen villain.
"It was actually kind of funny," Dave Filoni -- the executive producer and supervising director of "Star Wars Rebels" -- recalled during a recent interview at this past April's Star Wars Celebration. "Just before he goes into the booth, James turns to me and says 'David, I haven't done Vader in ten years. Can you remind me how?' And he's telling me this in his big deep James Earl Jones voice. So I just laugh and 'James, you're doing it already.'"
Bringing Jones in to voice Vader isn't the only change that Filoni and the "Star Wars Rebels" production team will be making in Season Two. As you can see by the video below, there'll be more characters joining the story (Among them Ahsoka Tano, the female Togruta who was once Padawan to Anakin Skywalker's Jedi Knight), bigger battles, higher stakes.
And it all begin this Saturday night with "The Siege of Lothal," a one-hour movie event that airs this Saturday night, June 20th at 9 p.m. ET/PT on Disney XD.