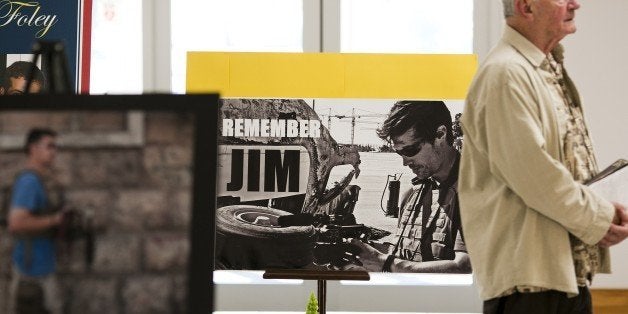 NEW YORK, Sept 29 (Reuters) - A photo of American journalist James Foley shortly before his beheading by the Islamic state militant group is being removed from anti-Islam advertisements appearing on Monday on 100 New York City buses and two subway stations.
In response to a complaint from the Foley family, the advertisement is being altered to include an unidentifiable severed head held by the masked militant seen wielding a knife in the video of Foley's beheading, said David Yerushalmi, lawyer for Pamela Geller, whose group is sponsoring the ads.
"The use of Mr. Foley's photo in your advertisement will cause profound distress to the Foley family," family lawyer J. Patrick Rowan said in a letter to Geller.
Geller writes a blog criticizing Islam. Her group, American Freedom Defense Initiative, paid for a six-ad series scheduled to run for a month on the city's mass transit system.
The ads, including one showing Foley in the video of his beheading released in August, suggest that Islam is inherently violent and extremist, and call for the end of American aid to Islamic countries.
"Having lived in and reported from communities in which nearly everyone was of Muslim faith, he had great respect for the religion and those who practiced it," the Foley family lawyer wrote, referring to the journalist.
"The advertisement you are preparing to run seems to convey the message that ordinary practitioners of Islam are a dangerous threat. This message is entirely inconsistent with Mr. Foley's reporting and his beliefs."
Foley, 40, was kidnapped by armed men in Syria in 2012. Islamic State has seized parts of Syria and Iraq.
Geller's lawyer said the image will be replaced out of "compassion for the family's pain and anguish."
New York City politicians and religious leaders last week criticized the ad campaign, saying no faith should be subject to attack ads and calling it an attempt to divide the city.
Geller was behind a similar ad campaign in 2012 on the city's transport system, which was initially rejected by the Metropolitan Transportation Authority, a state agency. A federal judge later decided that the MTA's rule against ads that demeaned race, gender, religion or several other categories was unconstitutional.
The MTA has since revised its standard, and so-called viewpoint ads like Geller's now run with a large disclaimer saying the MTA does not endorse the views expressed. (Editing by Mohammad Zargham)

Support HuffPost
The Stakes Have Never Been Higher
Related
Popular in the Community