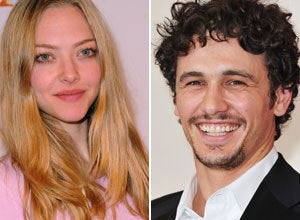 In "Lovelace," one of the two upcoming movies about infamous porn star Linda Lovelace, Franco plays Playboy founder Hugh Hefner, while Seyfried takes on the role of Lovelace -- and the NYDN reports the flirtation hasn't ended now that filming has wrapped.
A source close to Franco told the NYDN that the 34-year-old actor is "pursuing" Seyfried, but added that the new relationship is "not serious."
Though it seems he's everywhere in Hollywood, Franco hasn't made the rounds romantically. In July 2011, the actor and his girlfriend of five years, Ahna O'Reilly, called it quits because she was tired of the amount of time he spent studying at schools all over the country. Franco previously dated actress Marla Sokoloff, whom he met on set of the movie "Whatever It Takes," from 1999 to 2004.