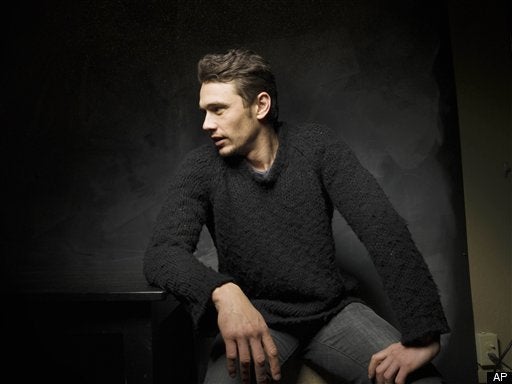 In a Hollywood filled with seemingly 2D stars, flattened against a wall for public consumption by agents, managers and PR flaks, James Franco stands out as a multi-dimensional multi-hyphenate anomaly. How one sees Franco, then, truly depends on the angle at which they choose to view him.
An actor/director/writer/student/author/artist, Franco is talented for sure, but can give off alternating hints of mysterious and open, high minded and down to earth, opaque and transparent. His prolific past few years have, thanks in part to the squadron of opinions on the internet and late night shows, been both celebrated and maligned, with his less than successful turn as Oscar co-host alongside Anne Hathaway coming in as by far the most buzzed about -- and criticized -- public moment.
When Franco took the job, he seemed excited to do so, saying it was a no-risk proposition, but as he explains to Playboy in their new issue, he knew as the show approached that it probably wasn't going to be such a hit.
"It's hard to talk about because it's like assigning blame -- not a fun thing to do. For three or four weeks we shot the promos and the little film that played in the opening," he says. "In the last week, when we really started focusing on the script for the live show and did a run-through, I said to the producer, 'I don't know why you hired me, because you haven't given me anything. I just don't think this stuff's going to be good.'"
"I was so pissed about that I was deliberately going to fall onstage and hopefully my dress would fall off or something -- they couldn't blame that on me; I was in high heels," Franco says. "The plan had been that I was going to sing as Cher and then Cher was going to come out onstage; that got axed when Cher and the song from 'Burlesque' weren't nominated. I told them, 'Look, this is the thing people are going to talk about, the images they will take away from the show.
"I just didn't want to fight anymore, even when they said, 'You'll come out as Marilyn Monroe. It'll be funny.' Me in drag is not funny," Franco continues. "Me in drag as Cher trying to sing like her is a thing. That didn't happen, so then I just didn't want to argue anymore. I was going with their program; I wanted to do the material they gave me, not be one of the many cooks doing the writing. There were a lot of cooks who shouldn't have been cooking but were allowed to. There were some cooks my manager tried to bring in, like Judd Apatow, who wrote some very funny stuff that wasn't used."
Still, he gave it his best, with his low-energy performance actually functioning as an intended foil to Hathaway's highly spirited effort. And when it was all over, the initial feedback was positive.
"After the show everybody was so happy, and Bruce Cohen, the show's producer, hugged me and said, 'Steve Spielberg just told me it was the best Oscars ever!'" he reveals. "As far as having low energy or seeming as though I wasn't into it or was too cool for it, I thought, Okay Anne is going the enthusiastic route. I've been trained as an actor to respond to circumstances, to the people I'm working with, and not force anything. So I thought I would be the straight man and she could be the other, and that's how I was trying to do those lines. I felt kind of trapped in that material. I felt, This is not my boat. I'm just a passenger, but I'm going down and there's no way out."
Beyond his very high profile jobs, Franco's private life also is put under the microscope. Though he learns for his own fulfillment and betterment, given his public spotlight and the rarity that he presents as a scholastically-apt actor, he receives plenty of criticism for his educational adventures, too.
Having been snapped sleeping in an optional lecture at one of his Columbia University courses -- he earned his MFA from NYU earlier this year -- Franco has come under bizarre criticism for wanting to learn, instead of just being a creature of fame in Hollywood. Curious as it is -- aren't most actors maligned for seemingly being shallow and fame hungry? -- he says he usually doesn't care about blogs, but when some sent writers to his book party for "Palo Alto," he was at first mad, before finally understanding their motivations: angry classmates -- or people who didn't even get into the lofty academic programs in which he is participating.
One blog thread that he can't abide, though, is the one falsely connecting him with the infamous Gay Rapist blind item that appeared in the New York Post in 2008.
While Franco quickly debunked speculation that he was the anonymous perpetrator -- the alleged victim himself insisted that he didn't know him -- it didn't stop blogs from running the story -- and worse.
"Then Gawker picked that up and did this 'Gay Rapist' story that was so f*cking offensive because I have friends who have been raped," he remembers. "They did a very classy online reader's poll asking which actor who had a big movie out that summer had beaten up and raped his boyfriend and then paid him off so it wouldn't go to court... My lawyer called them and said that it was completely untrue and to take it down. They said, 'Well, we're just reporting what the New York Post told us. If James wants to make a comment on our blog, we're happy to report it.' It was a choice. Either let this thing build and become bigger and bigger, or just let it go and let them be the petty scumbags that they are."
Franco, though, has moved on from those rumors to reach new heights in his career, and he's not slowing down at all. Having starred in this spring's medieval stoner comedy, "Your Highness," he'll next appear in "The Rise of the Planet of the Apes" in August and then the big budget Disney film, "Oz: The Great and Powerful." He's also got a whole slew of personal films that he's working on, which he calls, "smaller projects that my heart and soul are in."
For so much more, including Franco's discussion about his family, his turn in "General Hospital," and more details on his personal art projects and big budget films, check out the upcoming issue of Playboy.
Popular in the Community