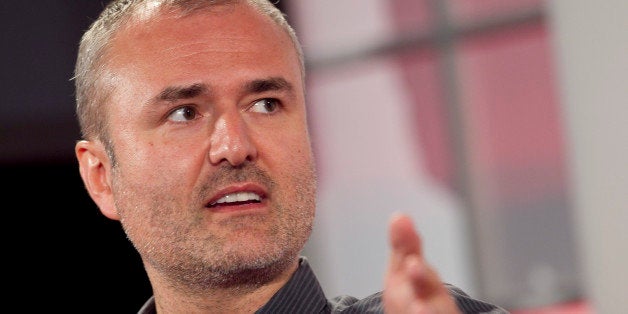 Sorting through the avalanche of condemnation following Gawker's role in the alleged blackmailing of David Geithner, something else caught my eye. In a now-deleted tweet, current Vanity Fair contributor Richard Lawson admitted: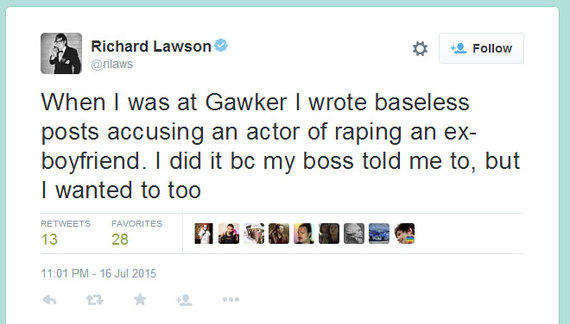 In the series of tweets that followed, Lawson explained that he has a good deal of atoning to do, and meant merely to express that he could sympathize with the pressures faced by a young writer working under an unscrupulous superior. It's a tough situation, I admit. Young writers, reporters and editors often face enormous pressure from owners primarily interested in page views.
But in this case, that pressure seems to have resulted in something far more horrendous than a kitten-themed slideshow: a series of stories crafted to lead readers to believe that James Franco is a rapist.
The first of Lawson's posts simply quoted a New York Post blind item that asked, "WHICH hunk in a summer movie is a violent, closeted homosexual? The heartthrob snuck into his ex's apartment a few months ago and raped him so violently, the ex ended up in the hospital - and the actor paid him $500,000 to keep his mouth shut." The Post item -- which may or may not be baseless itself -- offered no hints as to the identity of the alleged rapist and certainly mentioned no one by name.
Could the story, if true, have involved James Franco? Sure. In the same way that the guy who robbed that Park Slope 7/11 might have been Ben Kingsley. It's possible, but not really a theory that I, personally, would feel comfortable putting to print.
So how did Franco's name get mixed up in all of this?
A few days later, Gawker decided that the initial post was popular enough to spawn a franchise. They thought it would be fun (and offer more legal cover,) to let the readers decide who the rapist was--with a little nudging, of course. After a deeply half-hearted list of other "suspects," Lawson concluded:
And then there's the compelling case of James Franco. Basically the rumor is that Franco dated the guy about two years ago, and still had a key to his house. Guy goes to an Oscars party, comes back and Franco is waiting for him and then awfulness goes down. He's rumored to have been abusive towards an old girlfriend, also an actor, some five years ago.
Remember, the author has since admitted that this was all, in his words, "baseless." This entire, elaborate scenario designed to lead one to believe that James Franco is an abusive psychopath who might break into your house and rape you.... was baseless.
You would think that, at this point, they would be smart enough to back down. You would be wrong.
Gawker decided to revisit the "story" again over a month later. This time, the post was even accompanied by a photograph of Franco. Finally, it made the rather brazen claim, "that the original tip that prompted the Page Six blind item, about an actor who broke into his ex-boyfriend's house an[d] sexually assaulted him, mentioned Franco specifically."
Once again, I repeat: the author has since admitted that this was all baseless. Gawker manufactured a story that accused someone of rape--not to mention other intimate partner abuse--apparently for clicks and giggles, then delivered it over four posts spaced more than a month apart. And those links, as of this morning, were all still active.
If Franco doesn't sue them out of business, he's a better man than I.
Related
Popular in the Community