NEW YORK-- There were no bold names (aside from artist Terence Koh and P.S. 1 head Klaus Biesenbach) or event photographers at the opening of the omnipresent and multi-talented James Franco's new exhibition "High/Low, Rob Lowe," on display through August 28 at Koh's Asia Song Society. Unlike at most New York gallery openings that carry such a marquee headliner, the crowd on that drizzly Saturday night spilled out the door not because they couldn't fit inside, but because they needed a breath of fresh air from the venue's lack of air conditioning.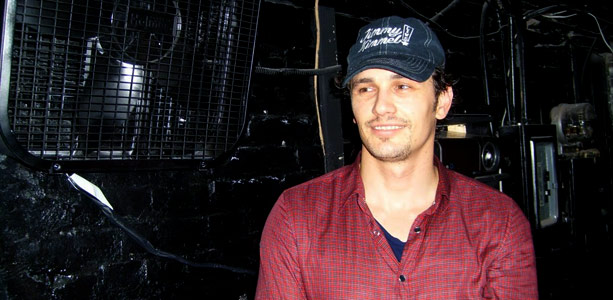 James Franco at the opening of "High/Low, Rob Lowe" / Photo by Ann Binlot
The opening, in fact, which showcased video and film installations created by and featuring Franco, proved to be a relatively low key affair, making one wonder if Franco's overexposure (a "Jimmy Kimmel" appearance defending non-visible art, a New York Times article chronicling his creative split with performance artist Kalup Linzy, and a starring role in "Rise of the Planet of the Apes," the weekend's number one movie at the box office, are just a few things that come to mind) kept people away, or if the opening was just quietly announced.
"High/Low, Rob Lowe" consisted of three areas: in the first a couch stood as the room's centerpiece surrounded by walls showcasing "Three's Company: The Drama," a cheesy, sexualized reenactment of the 70s sitcom using its original laugh track that debuted at Sundance. Visitors then walked down into the storefront's dark, cavernous basement, where they were greeted by 50 monitors running iPhone and 8mm films Franco created on the road, while at school, and on the set of "127 Hours." The last area was an empty room with a projector featuring "Road Trip," a film where Franco reads from actor Rob Lowe's autobiography while visiting works of land art like Robert Smithson's "Spiral Jetty" and Walter De Maria's "Lightning Field" during a cross-country adventure.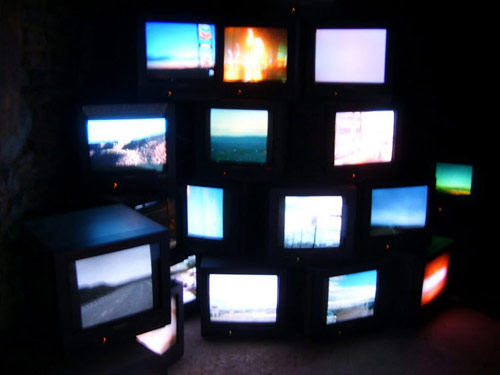 Using a structure of 50 monitors, James Franco presents a video installation featuring unseen footage from his travels. / Photo by Ann Binlot
Most were surprised to find Franco in the flesh (was he supposed to be part of the art?), clad in a Jimmy Kimmel baseball cap, chatting with people in the hot, steamy basement. "I didn't want it to be in a huge space, and this was like the perfect venue," Franco told ARTINFO. "We've been coming over here just three or four months, since we've been talking about it, and just setting it up and talking about the ideas, and Beatrice [Johnson] and John Morrow, and Alex Slattery have been doing a lot of the heavy work for the installation."
So how does Franco manage to star in feature films, be in a Yale PhD program, make art, and do a million other things? His answer didn't divulge much. "I work with good people," he said with a smirk. He went on to describe his inspiration. "One of the things that inspires me is using film and acting and performances as raw material, and crossing that into different worlds and looking at it from different aspects, so that I don't need to work in film as a performer who becomes a small piece of a big thing," Franco said. "In this world I can look at it and use it as raw material."
Spectators at the opening were intrigued by the installation, "just in terms of the way it's set up," attendee Courtney Richter said. "It's a pretty cool progression." They didn't seem turned off by the actor's ubiquity. "I think he's pretty interesting," admitted artist Nick DeMarco. "I like experimental celebrity."
One visitor questioned Franco's objectives. "I don't know whether he's doing it because he's always had an interest in it, or that he's doing it because he is famous, which makes me doubt it ever so slightly, and makes me view the work slightly differently from some who'd been compassionate about [art] form the very start," confessed artist Kiki Claxton.
And how does Franco, who was noticeably bleary eyed, cope with lack of sleep? The actor admitted that he had just arrived in New York that morning after shooting the prequel to "The Wizard of Oz" in Detroit until midnight the previous night. "I don't know, maybe I'll collapse," he joked.
Popular in the Community