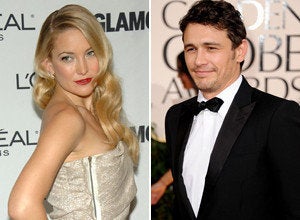 This would be a new kind of role for an Oscar host: pornographer.
Deadline.com reports that James Franco is in talks to star in a film about porn legend Linda Lovelace, starring as Chuck Traynor, her one-time husband and production manager of the Lovelace porn classic, 'Deep Throat.'
In talks for the Lovelace role? Kate Hudson.
Franco has strong ties to the film: based on Eric Danville's book 'The Complete Linda Lovelace,' it'll be directed by Rob Epstein and Jeffrey Friedman, the head honchos of Franco's indie Allen Ginsberg film, 'Howl.'
The film, announced at last year's Sundance Film Festival, is looking for funds to get off the ground. This sort of star power may help.