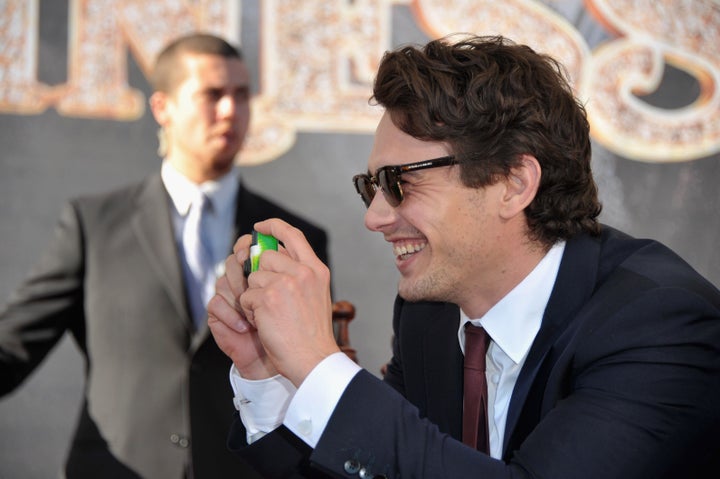 After filming a disappointing video with his girlfriend, James Franco made an interesting discovery: it isn't easy to make a hot sex tape.
"I got a video camera and my girlfriend and I decided to film ourselves," Franco told Conan O'Brien. "We watched it back and said, 'yeah, well, let's never watch that again." He continued, "Those people in pornos, they are great performers. They're not just doing it, they're selling it to an audience."
Franco was so inspired by the experience that he has decided to direct a documentary on one of the nation's largest pornography companies: San Francisco's own Kink.com. (Warning: Link contains extremely graphic content.) The documentary has yet to begin filming, but plans and site visits are allegedly well underway.
Founded in 1997 by a Peter Acworth, a Columbia finance Ph.D. student, Kink.com is the largest producer of fetish videos in the world, and specializes in unconventional sexual themes.
Franco described Kink.com to Conan O'Brien: "There's this amazing facility in San Francisco," he said. "It's at this old armory and they do everything in house; they build their props in house, so I'm making a documentary about that. It's an incredible place."
Alison Voss of Kink.com talked to The Huffington Post about the upcoming film. "Kink is very excited about the project. The details are still being ironed out, but we're really looking forward to it," she said. "Our mission is to demystify sexuality and fetish; we're very transparent about our practices, policies and commitment to ethical production...James Franco obviously has a huge reach, and we believe that the more people that see this, the more people will open their minds to sexual minorities."
No details yet on the movie, but apparently Franco has already visited Kink's headquarters. A June 26 tweet from Kink.com actress Rain DeGrey read, "Kink.com is all aflutter today because James Franco is here shooting his new movie. All these girls want to f*** him! lol." But it was later deleted. Rumor has it that Kink.com will be all aflutter again soon.
Check out James Franco discussing the project on Conan O'Brien in the video clip below: