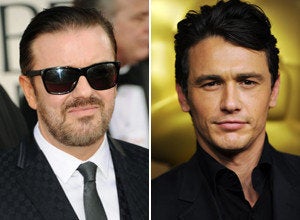 Turns out, Ricky Gervais isn't the only award show host in Hollywood who can toss around the insults. In fact, now he's getting a taste of his own medicine.
"He did his award show and he bombed. Why is he trying to get in on ours?" Franco remarked to E! News. Upon reading Gervais's script, Franco was less than impressed. "Horrible. His lines weren't good on the Golden Globes. Why does he want to do our lines?"
Perhaps Franco was especially upset because the script contained a shot right at him:
You probably know me from "127 Hours" where I play a man trapped in an enclosed space who decides he would rather cut his own arm off than stay where he was. Now that sounds "way out" but wait till half way through this f**king ceremony and you'll start to identify with him.
The one part Franco liked? When Gervais ripped on himself. Those, he said, he might use. And then he thanked him. Facetiously, of course.
Calling all HuffPost superfans!
Sign up for membership to become a founding member and help shape HuffPost's next chapter