Everyone always asks the question, "If you could have dinner with anyone, who would it be?" We could come up with a lot of answers, but when you alter the question slightly to replace "dinner" with "late-night snack attack," the decision gets a lot easier. If we were to get the munchies with anyone, it would definitely be with James Franco And Seth Rogen. While it may be a lofty dream, we have high hopes, and after watching a new Epic Meal Time video starring Franco and Rogen, we feel like we've gotten one step closer to fulfilling our dreams.
In the latest installment of Epic Meal Time, producer and co-creator Harley Morenstein decides to give up the show, and is replaced by none other than Franco and Rogen, who create a dish worthy of the show's past monstrosities, like poutine dumplings and a Thanksgiving Voltron. Presumably in honor of their new movie, "The Interview," which comes out December 25, Franco and Rogen make Korean BBQ Lasagna.
With all the build up that's already been happening around the movie, it's only fitting that the pair would be bringing Korean food to crazy new heights. Franco tells us that the difference between BBQ and Korean BBQ is that "Korean BBQ has soul [Seoul]," and judging from this video, he's not wrong.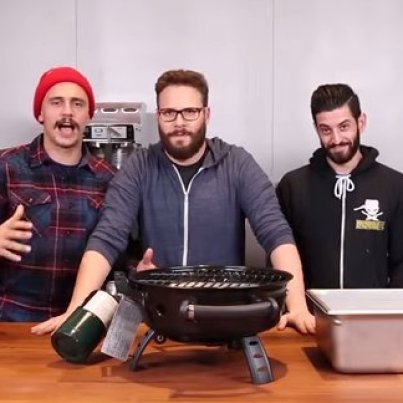 Franco and Rogen's Korean BBQ Lasagna consists of bulgogi, pork belly, kimchi fries, gochujang -- which Franco refers to as the devil's ketchup -- kimchi bacon and kimchi pancakes, which, Franco points out, "ironically are not available at the International House Of Pancakes." Oh, and there are lasagna noodles too.
"You can't make Korean BBQ lasagna with out noodles, right?" asks Franco. Rogen replies, "Don't ask me. I'm high as f*ck." Rogen also tells us that he "did not wash [his] hands."
According to the video, the final dish has a whopping 33,083 calories and 2,169 grams of fat. Franco and Rogen both declare they're not eating it... Cut to a second later and they're chowing down with the rest of the Epic Meal Time crew. If you watch closely, however, both Franco and Rogen only take minuscule bites. We'll help you eat your Korean BBQ lasagna any time, guys. Even if Rogen didn't wash his hands.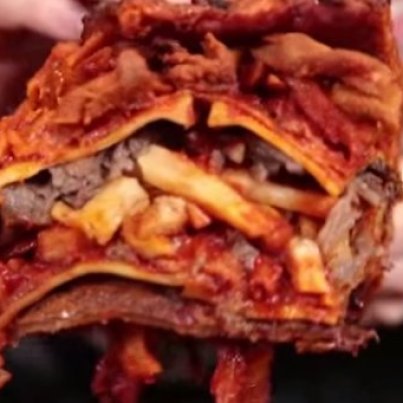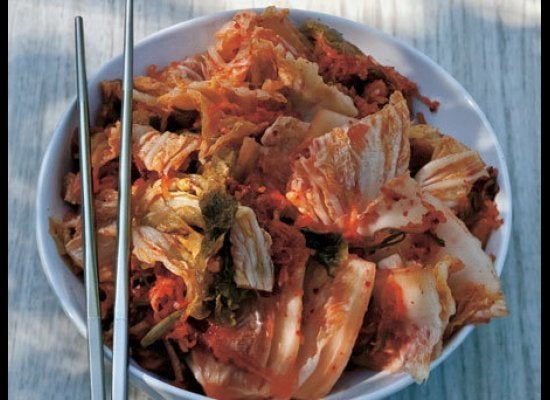 15 Korean Recipes To Try Right Now