 "Tommy Wiseau is undoubtedly a 'character,' a mysterious, self-made man whose origins and age are unknown, who somehow has enough money to spend $6 million dollars making and promoting his own film, buying all the equipment in the process," Franco wrote in a review of "The Disaster Artist" for VICE last year. "He looks like he is from Bram Stoker's Transylvania: ageless, muscled, sweet, and scary; he is part vampire, part Hollywood dreamer, part gangster, part Ed Wood, and super lonely."
In speaking with radio hosts Opie and Anthony, Rogen agreed that the film will mine dark territory amid the laughs.
"What's interesting is [Wiseau] had to restructure his thoughts on it to some degree. Because he wants the acclaim and attention but all that's associated with somewhat acknowledging that it sucks shit," Rogen said (via The Film Stage). "So I think he's kind of in a weird position where he goes to the Q&A's and introduces the screenings and I think now he kind of pretends, 'Oh, it's a dark comedy' or something like that. But it's so clear that he's wounded and torn. Which is interesting also -- a guy who has to go around and perpetuate something that's being received for all the wrong reasons, basically."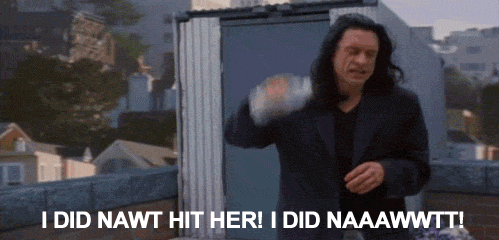 The Room GIFs
Popular in the Community