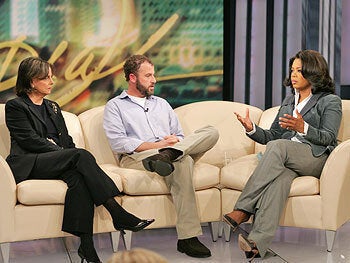 The article attempts to be the definitive account of how Frey went from addict to screenwriter to best selling author to public enemy, and how he picked up his million little pieces to write another novel, Bright Shiny Morning.
As Peretz details in the following excerpt, Frey and his publisher Nan Talese claim that Oprah — who went from champion to critic in a matter of weeks — duped them, tricking them to get on her show under false pretense and then attacking them as soon as the cameras began to roll:
As Talese recounted at a televised publishing conference last July, the show invited her and Frey together. Talese initially resisted. Then they were approached with a new pitch. The topic was going to be "Truth in America," and they wanted Talese on a panel with columnists Frank Rich, of The New York Times, and Richard Cohen, from The Washington Post. Given this scenario, Talese agreed. But when she and Frey arrived at Harpo Studios, in Chicago, they were told that the program was not, in fact, about Truth in America; it was about the James Frey controversy. Winfrey told Frey it would be rough, but said there would be redemption in the end. There was no redemption. From beginning to end, it was, according to Talese, "a public scourge."

Oprah, who just two weeks before had stood by the "essential truth" of Frey's story, now pounced on his every other word, while the audience booed him.

"I've struggled with the idea of it and ... " began Frey, in a typical exchange.

"No, the lie of it," snapped Oprah. "That's a lie. It's not an idea, James. That's a lie."

"I feel like I came here, and I have been honest with you," he said at the end of the hour. "I have, you know, essentially admitted to ... " "Lying," Oprah broke in....

"He felt trapped and cornered," recalls Talese today. A spokesperson for Oprah claims that "Truth in America" was always the topic for the show and that Talese had been informed of the full range of questions in the pre-interview. Talese maintained (as she still does) that memoirs have always been personal impressions, and didn't seem to realize that, for better or for worse, the game was now up. She was disgusted at the spectacle Oprah was making, appalled at her manners and at what she allegedly told Frey after the show was over: "I know it was rough, but it's just business." Winfrey denies ever making such a comment. "Once again, the truth is not being served here," she says in a statement to Vanity Fair. "In 22 years of doing this show, I have never said to anyone, 'I know it was rough, but it's just business.' This was beyond business. This was about the trust I share with the audience who faithfully supports the Book Club and buys the books I recommend; and based on that trust, I thought we were owed an explanation about the truth of this memoir."
Read the entire article online here or pick up this month's copy of Vanity Fair.