If "The Drop" didn't contain James Gandolfini's last screen performance, it might have gone directly to DVD. That's how old fashioned so much of this movie feels. Written by Dennis Lehane ("Mystic River," "Gone Baby Gone") and directed by Michaël R. Roskam, "The Drop" -- previously called "Animal Rescue," the title of Lehane's source short story -- is as generic as all those thrillers Cinemax used to play on Friday night. Your dad fell asleep watching "The Drop" in 1998.
Yet the film, which premiered at the Toronto International Film Festival on Friday, is not without some charms. Tom Hardy, who plays the lead character, Bob, a laconic bartender, acts like some combination of Frankenstein, Ryan Gosling and Jake LaMotta. Hardy plays Bob with a layer of bemusement that recalls the time Liev Schreiber said hello to cookie jar in "Walking and Talking." Hardy plays with a dog in "The Drop," which will make future GIF makers quite happy and should keep Tumblr in business for another year. It's perhaps his most enjoyable performance yet.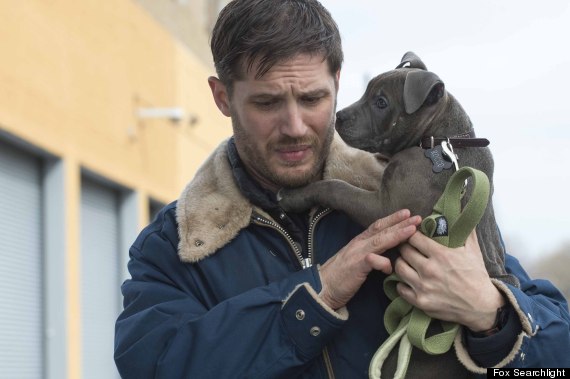 Then there's Gandolfini, as a gruff former lone shark named Cousin Marv, who got pushed out of the game by Chechen mobsters a decade earlier. Marv is an angry and failed man who's now helpless in his own life. He's the guy Tony Soprano would have put the screws on if this were "The Sopranos." It's pretty basic stuff, all things considered -- we've seen Gandolfini do variations on this character before -- yet Gandolfini is committed throughout. He wrings humanity and heartbreak out of a person who doesn't deserve such layers.
"At least I had something once. I was respected. I was feared. When I walked into a place, people sat up. They sat up straight. They noticed," Gandolfini says in the film's best scene. "The Drop" isn't memorable, but it's further proof of how effortless Gandolfini was as a performer. We all realized that a long time ago, but it still felt nice to sit up straight and take notice one last time.
"The Drop" opens in limited release on Sept. 12; a nationwide rollout follows on Sept. 19.
Calling all HuffPost superfans!
Sign up for membership to become a founding member and help shape HuffPost's next chapter
BEFORE YOU GO
PHOTO GALLERY
Fall Movies 2014