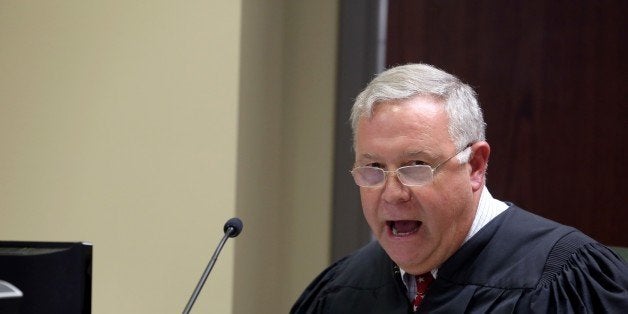 The judge presiding over Friday's appearance by the 21-year-old accused of a racially motivated mass shooting at a Charleston, South Carolina, church had previously been reprimanded for using a racial epithet in court.
Charleston County Magistrate James Gosnell was publicly reprimanded by a South Carolina disciplinary body in 2005 for uttering a derogatory word for an African-American to a defendant at a bond hearing. The same reprimand noted that Gosnell later bent the rules to get another judge out of jail who'd been caught driving under the influence with an open container in his car.
"There are four kinds of people in this world: black people, white people, red necks and n****rs," Gosnell said to the man, according to the file. The judge later claimed that the crude observation was told to him by a black sheriff's deputy.
Details of Gosnell's transgressions resurfaced Saturday on CNN.
On Friday, Gosnell allowed family members of the nine victims killed at Emanuel African Methodist Episcopal Church to address Dylann Roof, the 21-year-old charged with the mass shooting. That drew attention back to his rebuke for racist language.
The judge had agreed with the Office of Disciplinary Counsel that he violated several parts of the official Code of Judicial Conduct, including that judges "shall not, in the performance of judicial duties, by words or conduct manifest bias or prejudice, including but not limited to bias or prejudice based upon race."
Gosnell's intervention on behalf of Charleston Municipal Court Judge Joseph Mendelsohn, who was arrested for drunk driving, came two days after the vulgar language in court.
According to the reprimand, he sprung Mendelsohn from jail in the middle of the night although the procedure called for holding him until a normal bond hearing convened the next morning. Mendelsohn had been arrested in Mount Pleasant, South Carolina, which has different rules from the county court, where Gosnell has authority.
Gosnell met Mendelsohn and a Mount Pleasant lieutenant at the jail in an atypical arrangement that sprung the judge. Gosnell took the ticket issued to Mendelsohn, stamped "bond hearing" on the back and entered $1,000 -- the usual amount for a DUI bond -- on the form. (It is unclear from the record if money changed hands.)
Gosnell stepped over other rules that would have required all inmates awaiting bond hearings to get an impromptu appearance like Mendelsohn. After handling Mendelsohn's case at 2:30 a.m, he finished by saying "this didn't happen until 8:00 a.m.," the time such hearings are scheduled to begin.
CORRECTION: An earlier version of this article cited an erroneous NBC report that Gosnell had been reassigned and removed from the case against Roof. He was not removed because, as a magistrate, he only presided over the bond hearing. Circuit Court Judge J.C. Nicholson will preside over the criminal proceeding.
Popular in the Community