 The op-ed marks the first move in Hansen's new career as a carbon campaigner, after nearly half a century spent as NASA's most famous climate scientist at the agency's Goddard Institute for Space Studies. In the op-ed, Hansen argues that "the perspective of pipeline apologists is contrary to the laws of physics and basic economics."
The State Department, which has purview over the Keystone XL approval process, since the pipeline crosses an international border, produced an environmental impact assessment in March that found the pipeline posed no significant environmental threat. The assessment is currently undergoing a public comment period through April 22, at the end of which the department will prepare its final statement to help the president decide whether the pipeline is in the "national interest."
In his op-ed, Hansen says that the State Department's analysis is too narrow and fails to anticipate the effect the pipeline's approval could have on future projects. "Researchers now say that the Alberta tar sands contain 360 to 510 billion tons of carbon -- more than double that of all oil burned in human history," he writes. "While only a fraction is considered economically recoverable right now, we humans are genius at finding new and better ways to dig junk out of the ground. Digging begets more digging."
Hansen also takes issue with the notion that the Keystone XL is "in the national interest," noting the U.S. will suffer a disproportionate share of the environmental degradation associated with the pipeline. In the past week alone, he notes, there have been two pipeline oil spills: one in Minnesota, which spewed tens of thousands of Canadian crude and another in Arkansas, where an entire residential street was flooded.
He also debunks the suggestion that the oil will be extracted regardless of whether the pipeline is approved, calling the pipeline the "linchpin" to tar sands expansion efforts. "Tar sands may get to market without it, but at a slower rate and a much greater cost," he writes.
If Obama doesn't act swiftly to stop the construction of the pipeline, Hansen argues it could overshadow his entire environmental record. At a series of fundraisers in San Francisco, Calif. last night, the president drove home his commitment to fighting climate change, touting his administration's environmental accomplishments and pledging to work with Republicans on the issue.
"Despite a very aggressive agenda on the other side to block action, we've been able to double fuel-efficiency standards on cars, we've been able to take mercury out of our air, we have been able to reduce carbon emissions in this country," he said. Obama was greeted in San Francisco by over a thousand protesters urging him to reject the controversial pipeline.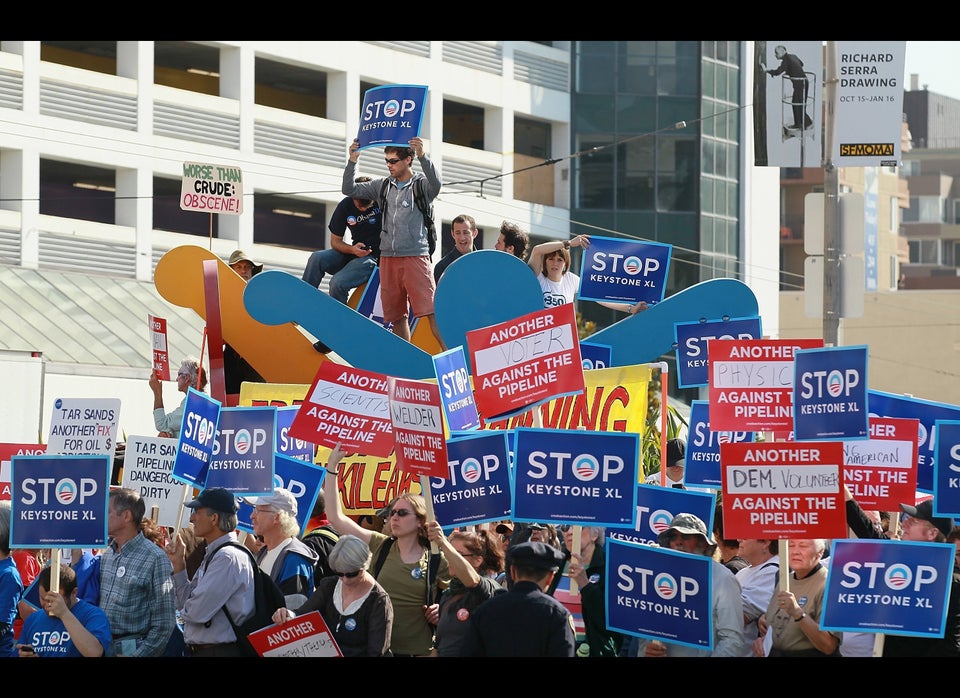 Keystone XL Protests
Popular in the Community