If global temperatures on our planet continue to go up, ferocious super-storms could become more frequent and sea levels could rise several meters over the next century, drowning coastal cities along the way.
The research raised eyebrows not only because it was released in draft form, but also because it suggests that current climate models -- including forecasts made by the United Nation's Intergovernmental Panel on Climate Change -- underestimate the effects of ice melt runoff from the Greenland and Antarctic ice sheets. For instance, the IPCC previously warned of only 3 feet (about one meter) of sea level rise by 2100.
The researchers analyzed paleoclimate data, climate models, and modern climate observations to determine what would happen if global temperatures rose 2 degrees Celsius (3.6 degrees Fahrenheit) above the somewhat stable climate conditions humans have adapted to since the preindustrial 1800s.
The researchers found evidence indicating that such increased temperatures would yield multi-meter sea level rise and violent super-storms, fueled by a shutdown of ocean circulation. In other words, melting ice sheets could dump cool and dense water into the oceans that then would sink and affect circulation patterns. This shift in circulation patterns could cause the ice sheets to melt even more, leading to increased sea level rise at a faster rate than previously thought.
"It's a complex story with important practical implications," Hansen said. "What the science actually tells us is we need to reduce emissions as rapidly as practical."
"There is no doubt that the sea level rise, within the IPCC, is a very conservative number," Dr. Greg Holland, a climate and hurricane researcher at the National Center for Atmospheric Research, who reviewed Hansen's study, told The Washington Post last year. "So the truth lies somewhere between IPCC and Jim."
But now that the revised research has been released, climate scientist Dr. Michael Mann told The Guardian on Tuesday that the new paper still has some of the same issues that caused concern last year.
"I'm always hesitant to ignore the findings and warnings of James Hansen; he has proven to be so very prescient when it comes to his early prediction about global warming," he added. "That having been said, I'm unconvinced that we could see melting rates over the next few decades anywhere near his exponential predictions, and everything else is contingent upon those melting rates being reasonable."
Meanwhile, NASA's program scientist for the cryosphere Tom Wagner told The Guardian that Hansen has done an "amazing job" in providing a "provocative" piece of research on sea level rise.
In the new paper, the researchers noted:
"These predictions, especially the cooling in the Southern Ocean and North Atlantic with markedly reduced warming or even cooling in Europe, differ fundamentally from existing climate change assessments. We discuss observations and modeling studies needed to refute or clarify these assertions."
Of course, virtually all climate scientists agree with Hansen and his co-authors that the world is not moving fast enough to reduce emissions of greenhouse gases, which poses grave risks, The New York Times reported.
When asked about critics during Monday's press conference, Hansen said that skepticism is a normal part of the scientific process. So it seems that the irreversible effects of climate change remain what he's most concerned about.
"I think the conclusion is clear. We are in a position of potentially causing irreparable harm to our children, grandchildren and future generations," Hansen says in the video. "This is a tragic situation -- because it is unnecessary. ... If we collected a gradually rising fee from fossil fuel companies, we could phase over to clean energies -- if done right it would spur the economy and create jobs."
Related
Before You Go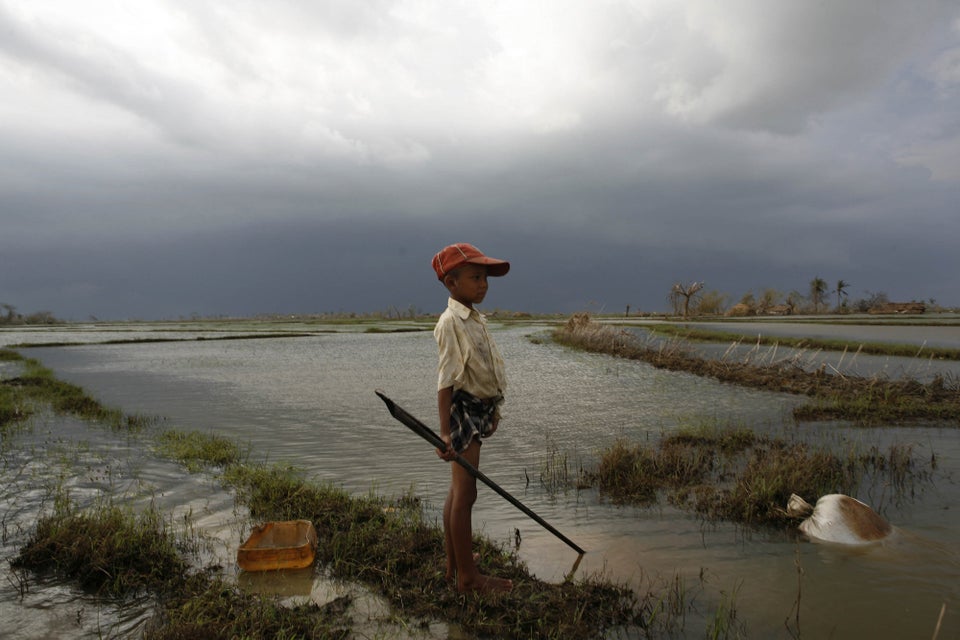 Climate change seen from around the world
Popular in the Community