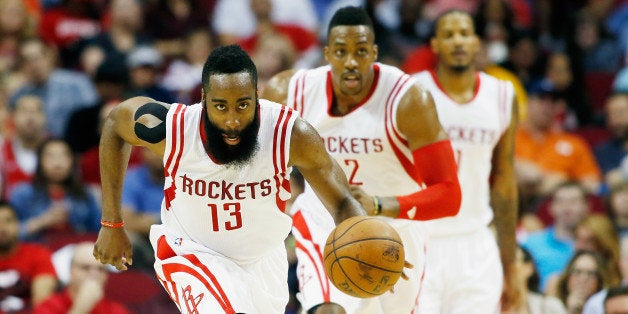 Shoot three-pointers and layups. Don't shoot mid-range shots.
It's a simple philosophy that has proven very effective for the Houston Rockets. At its forefront is GM Daryl Morey, a forward thinker who built his roster around a steadfast commitment to the approach. His head coach, Kevin McHale, demands the same. The results have been record-breaking. Led by James Harden's rapid-fire game, the Rockets set an NBA record for most three-point field goals made (933) and attempted (2,680) this season. Fresh off vanquishing interstate rival Dallas -- its first playoff series victory in six years -- Houston is hoping to advance to its first conference final since 1997. Let's take a look at how the Rockets have done it.
Harden's ability to score is well-documented, but there may not be a better playmaking 2 guard in the league. Against the Mavericks, Harden ran an onslaught of pick-and-rolls with his bigs, namely Dwight Howard and Josh Smith. In turn, he forced the defense to make a quick decision: guard him one-on-one off either a switch or a trailing defender, or overcompensate and try to rotate in time to defend the rolling big. In the video below, we see two cases of the latter, and Harden deftly finds Howard for a pair of dunks.
And then we see a similar situation with Smith, a consistent theme in this offense.
Harden sees the floor incredibly well -- he ranks eighth in the league in assists and first among all shooting guards.
The result of an effective pick-and-roll game often opens up other areas of the floor. For Houston, this has become especially true because of Harden's ability to run pick-and-roll from both wings and from the top of the key. McHale trusts his star to then make the right decision, which -- when the drop pass is not a viable play -- is a drive-and-kick. Morey has constructed his team to have a myriad of shooters to both spread the floor for Harden's driving lanes and to serve as valuable catch-and-shoot options. In fact, as a team, Houston shot less than 25 percent from three merely seven games during the regular season. That frees up Harden for isolation opportunities, particularly late in games. And clearly, he has the green light, even in mid-range situations with a switch.
In this half-court set, the defense doesn't help even the slightest bit.
As we examined with Golden State, the best time to launch a three-pointer is from an offensive rebound. The defense is hardly set, and left scrambling to identity who is left unguarded. The Rockets ranked fourth in the NBA in offensive rebounding percentage this season, generating a barrage of second-chance opportunities. Furthermore, they are downright lethal off in-bounds plays, something McHale has always taken seriously -- a chance for "free points."
If the Rockets are to contend, they will have to shoot a high clip and receive offensive contributions from the ancillary components. The good news? This has happened all season long: Unselfish half-court basketball leads to quality looks on a consistent basis, and nobody is a better creator off the bounce than Harden. The West -- as we've examined -- is absolutely brutal, but Houston has a legitimate chance because of how well it scores the ball.
REAL LIFE. REAL NEWS. REAL VOICES.
Help us tell more of the stories that matter from voices that too often remain unheard.