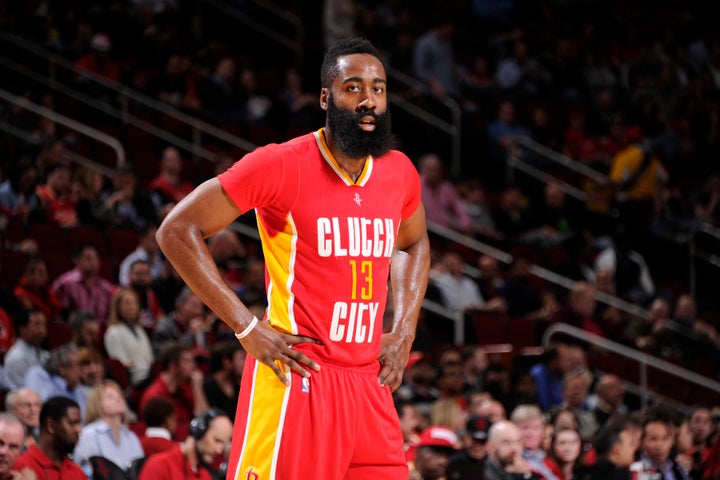 James Harden is arguably the NBA's best shooting guard. A splendid blend of step-back jump shots, gorgeous Euro-step forays to the basket and late-game heroics, Harden is undoubtedly one of the most devastating scorers of his generation.
Harden's deadly offensive talent was clear from the start of his Rockets career. Over each of the past four seasons, the former Arizona State standout and No. 3 overall pick hasn't ranked outside of the top five in scoring. This year, his 27.6 points per game trail only the immortal Stephen Curry. But there is more to the game than just scoring. Despite his immense natural ability, the 26-year-old sniper seems to have forgotten about that.
After an expected improvement to his individual defense last season, Harden's defensive regression this season has been unmistakeable. Opponents are shooting over 5 percent better when he's playing, as the USA Today noted in December. They connect on made field goals nearly 8 percent better from less than 10 feet and 4 percent better from greater than 15. 
You don't have to be a lockdown individual defender to become a useful defensive player in basketball. San Antonio has made a living by employing players like this. So too has Golden State en route to its two-way dominance. 
The Clippers' J.J. Redick is a prime example. Positioning, effort and basketball acumen lend themselves to team defense and Redick -- despite lacking elite foot speed and quickness -- can maximize other areas to mitigate this. 
In the video above, Harden's laziness results in the failure to box out and contest an easy layup that should never have even been attempted. Below, we see him whiff on a hapless help attempt -- where he is out of position -- that once again results in an easy layup for the opposition. Against Cleveland, he blows by Kyrie Irving on a busted closeout, resulting in a wide open pull-up jump shot. Each video shows Harden in a different, but equally poor lapse.
Harden, for all his offensive prowess, either doesn't understand his lack of defensive effort or worse, simply doesn't care. And the Rockets, after an unexpected run to the Western Conference finals last year, are a pedestrian 22-22, barely good enough to earn a playoff bid.
Defense is a crucial reason why we've seen such a surprising regression. While amassing a stellar 56 wins during the 2014-15 campaign, the Rockets ranked ninth in opponent field goal percentage and, almost as importantly, first in opponent 3-point percentage. But this season has been a different story.
Houston -- already on coach No. 2 this season -- ranks a woeful 26th in field goal percentage against and just 16th in 3-point percentage allowed. As a result, their defensive efficiency has plummeted from sixth (last season) to 22nd and their points surrendered per possession has significantly increased from a solid 1.18 to a middling 1.24.
That is a worse clip as the Lakers, Timberwolves and Nets, all widely regarded as poor defensive teams. Of course, all of the onus does not fall on Harden: Dwight Howard has predictably been a colossal disappointment and Houston's two best perimeter defenders -- Trevor Ariza and Corey Brewer -- have struggled to contain dribble penetration.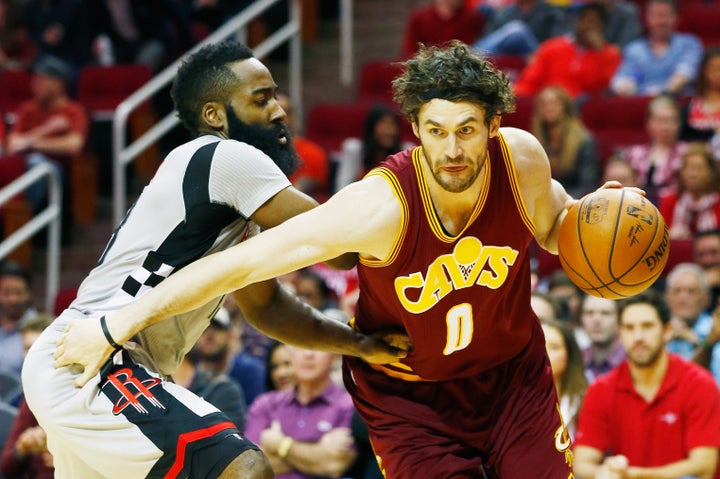 Harden, for all of his offensive genius, is the face of the franchise. He's a perennial All-NBA performer who just so happens to also be a defensive sieve. His defensive win shares have hovered around the cellar of the league for combo guards. Harden is also the 63rd rated shooting guard defensively in the NBA, with a plus-minus of -1.75. In other words, there are about 30 backups better than him.
"It's not a matter of whether I can or can't play defense," Harden told USA Today in October 2014. "It's just a matter of me focusing for 48 minutes throughout a game and making sure that I'm always alert on both ends of the floor."
"Playing that amount of minutes, you're going to have some lapses, some mistakes," Harden told ESPN.com in December. "I try to not worry about them. I try to give my all on both ends of the floor and live with the results. ... Who do you know spends 40 minutes at a high level on both ends of the floor nowadays?"
Talking about playing defense and playing defense are two very different things though, and Harden, for all his greatness, knows this better than anyone. Houston, meanwhile, isn't good enough to challenge for a title, but Harden's detachment on that end of the floor has become disgraceful and indefensible. And his megastar status only amplifies that.
REAL LIFE. REAL NEWS. REAL VOICES.
Help us tell more of the stories that matter from voices that too often remain unheard.