 James Holmes, who is accused of shooting 71 people, killing 12, in a crowded theater at a midnight showing of the new Batman movie Friday, was a smart, quiet first-year student in a highly competitive graduate program, former classmates said.
"He was a loner," said a classmate of Holmes' in the neuroscience program at the University of Colorado Denver Anschutz Medical Campus in Aurora, who requested anonymity. "He was quiet."
Holmes, 24, graduated with honors from University of California-Riverside with a degree in neuroscience in spring 2010. He enrolled in the University of Colorado in June 2011, and was "in the process of withdrawing" at the time of the shooting, according to a university spokeswoman. Holmes graduated in 2006 from Westview High School in San Diego.
Brian Martinez, Holmes' chemistry lab partner at Westview, recalled that he was a talented student. "He's a smart kid," Martinez said. "He was great at chemistry."
Martinez said Holmes seemed to be a normal teenager. "I never figured he'd do anything like this."
Students in the University of Colorado graduate neuroscience program are "highly motivated and typically have very strong credentials for admission," according to a school website. The program is "very competitive," Holmes' university classmate said.
"Most people who enter get a Ph.D.," he said.
A classmate of Holmes' as an undergraduate at UC-Riverside, remembered him as an "impressive" student. "He is a smart guy and a quick learner,"said Hongxia Wang in an email.
New York Police commissioner Ray Kelly said at a press conference that Holmes had dyed-red hair and said that he was "The Joker," the arch-nemesis of Batman, during the shooting. In a news conference Friday afternoon, Aurora police chief Dan Oates confirmed he had spoken to the NYPD, but declined to confirm Kelly's statements.
"We are not speculating on motive," Oates said.
An FBI spokesman said Holmes had no prior criminal record. His only previous encounter with police in Aurora is for a traffic ticket, Oates said.
Holmes was armed with an assault rifle, shotgun and two pistols, and wore a helmet, gas mask, bulletproof vest and other body armor, police said.
He surrendered to police shortly after the shooting, and alerted them to the presence of explosives in his apartment, a university-managed building 5 miles from the suburban Denver theater, police said. In the news conference, Oates confirmed that Holmes had rigged his apartment with "chemical and incendiary devices."
"Our investigation determined that his apartment is booby-trapped," Oates said. The explosives are "linked together by all kind of wires," he said.
Zhang Yi, who lived in the red-brick apartment building with Holmes, crossed paths with him the night of the shooting. Holmes was carrying two black duffel bags out to his car, and ignored a greeting. "Very unfriendly," Yi said.
Other neighbors reported that loud techno music began playing around midnight in Holmes' apartment. "We heard very loud music coming so I walked upstairs and banged on the door," Kaitlyn Fonzi, a 20-year old biology student at the University of Colorado at Denver, said on Friday.
She said when she banged on the door, it rattled as if it were unlocked. "I contemplated poking my head in and saying, 'Yo, shut that off'."
Fonzi and her boyfriend had never had a problem with their upstairs neighbor before, she said. "It was like nobody lived there." When she learned about the shooting and that the apartment was wired, Fonzi said she was glad she hadn't poked her head in.
Arthur Delaney, David Lohr, and William McGuinness contributed to this report.
Related
Before You Go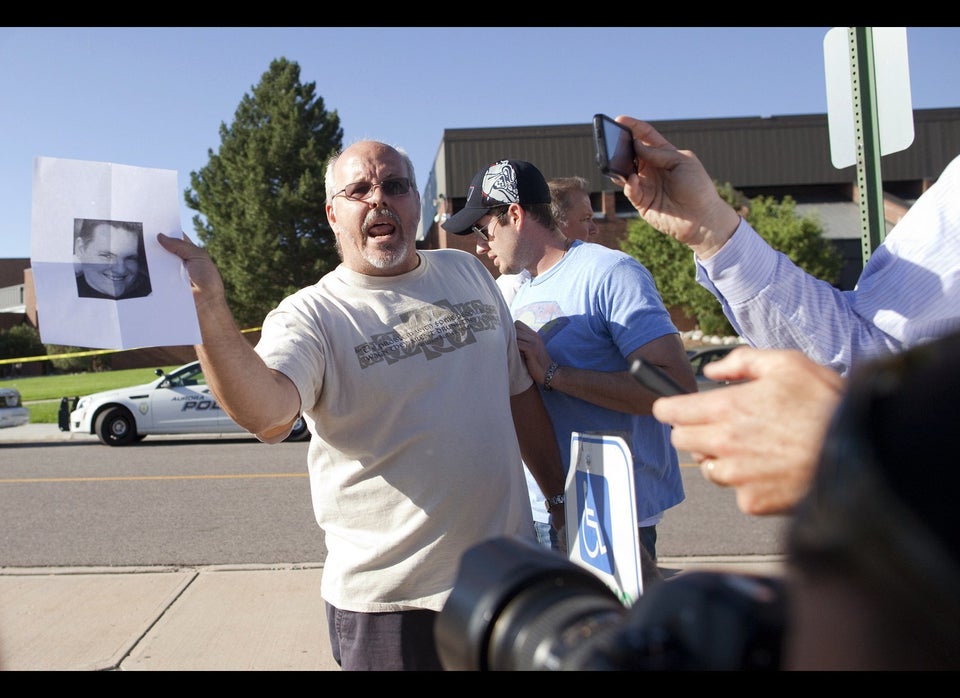 Batman Premiere Shooting At Century 16 Cinema
Popular in the Community