Since being thrown behind bars as the suspect in the Aurora movie theater shooting, James Holmes has often spit at his jailers, ABC News reports.
The 24-year-old former doctoral student, accused of killing 12 people and wounding 58 more at a midnight screening on Friday, spit so frequently that guards forced him to wear a face mask at one point, ABC said.
Details are also appearing about Holmes' actions in the weeks before one of the worst mass killings in American history. Hours after failing an oral exam on June 7 at the University of Colorado, Holmes purchased a powerful rifle, according to a separate report by ABC. Three days later he withdrew from the neuroscience program.
Holmes' behavior during his appearance in Arapahoe County court on Monday caused many to wonder about his mental state. With brightly dyed orange hair, Holmes at times sat bug-eyed and at other moments, kept his eyes shut. His public defender had to nudge him to get him to stand for the judge.
Despite the dazed demeanor in court, Holmes reportedly wasn't on drugs.
Now reports are emerging that he's behaved strangely in custody as well since his arrest at the sold-out show of "The Dark Knight Rises." Detectives covered his hands with bags so any gunpowder wouldn't be destroyed after his arrest and Holmes began playing as if the bags were puppets, KMGH reported.
PHOTOS: (Story Continues Below)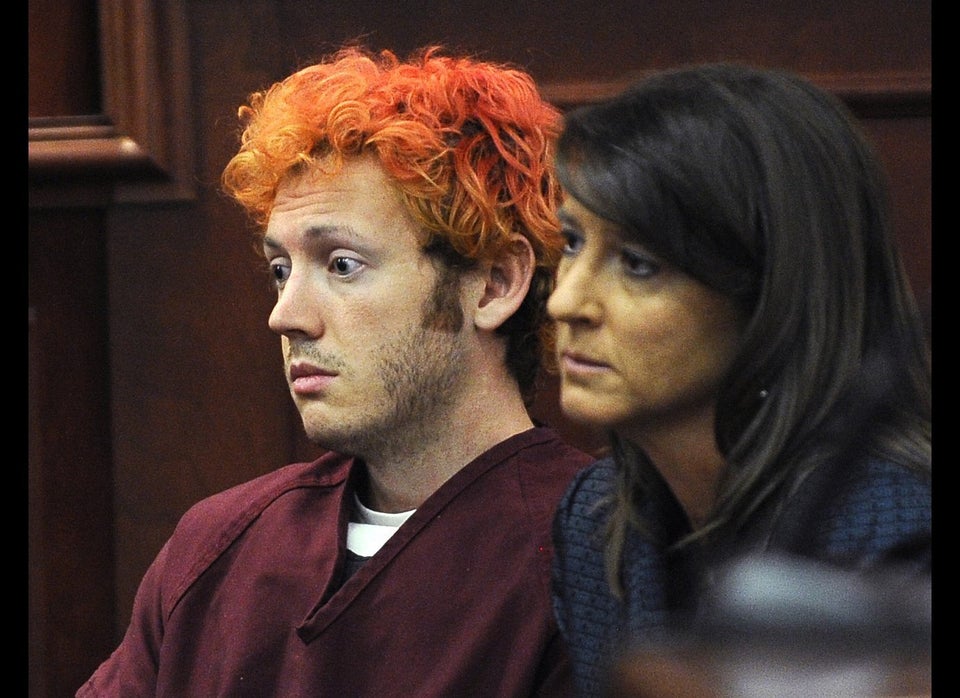 First Court Appearance Of Colorado Theater Shooting Suspect James Holmes
Witnesses to the shooting said the gunman entered the theater wearing full riot gear and detonated smoke bombs before firing randomly into the audience.
There's speculation that Holmes' lawyers will mount an insanity defense. But that could be difficult to prove according to former Denver district attorney Norm Early who noted that Holmes spent months accumulating weapons and ammunition. Holmes, also tipped off police that his apartment was booby-trapped. Early told KDVR that suggests Holmes understood his actions and knows right from wrong.
Related
Popular in the Community