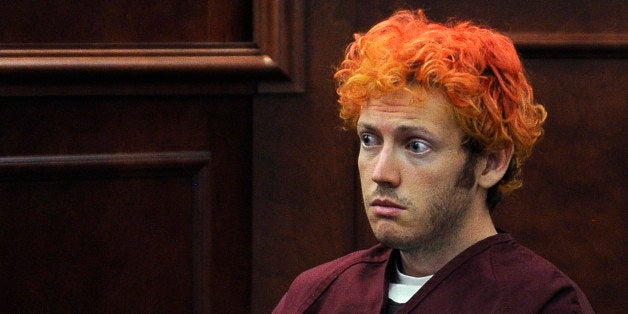 Early in the morning of July 20, 2012, a gunman wearing ballistic gear and carrying an assault weapon, three other guns and gas canisters stormed a sold-out midnight showing of "The Dark Knight Rises" at a movie theater in Aurora, Colorado. He opened fire on the audience.
Police responded to the Century 16 theater 90 seconds after the first call for help. In the parking lot, they found James Holmes, a 24-year-old former doctoral student with a shock of bright orange hair. Holmes told them he was the Joker, a reference to an earlier Batman movie. The theater itself contained a far more gruesome scene: Twelve moviegoers lay dead and 70 were wounded.
Three days later, Holmes appeared for his first hearing in court, where onlookers said he seemed confused and disoriented: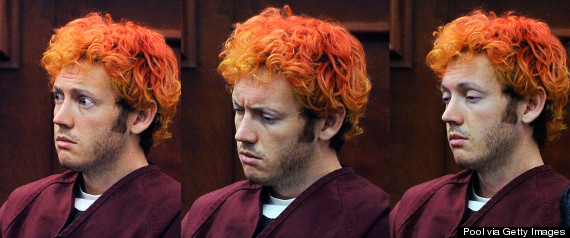 In this composite image, accused movie theater shooter James Holmes makes his first court appearance on July 23, 2012, in Centennial, Colorado.
"He's not in this courtroom mentally," Brad Garrett, a former FBI profiler, told ABC News of Holmes' body language at the time. "He's elsewhere. He's in some alternative reality that he's created. I also think that there's a combination of the reality of what has happened to him has set in, as to what it's done to himself as well as to the victims."
Holmes appeared in court a second time on July 30, 10 days after the shooting. He was formally charged with 24 counts of first-degree murder -- one count per victim for intent and one for murder with extreme indifference. The maximum punishment for each charge is the death penalty. Holmes was also charged with 116 counts of attempted first-degree murder, one count of possessing an explosive device and one count of violent crime.
Soon after, District Judge William Sylvester placed a gag order on those connected to the trial and sealed key documents, which he said could cause "untold harm" to the case if they were released. (Judge Sylvester stepped down from the case in 2013. His replacement, District Judge Carlos A. Samour Jr., upheld the gag order.)
Not much has been revealed since then, though key components of the defense's strategy are clear -- namely, calling into question Holmes' mental state in 2012.
Holmes has pleaded not guilty by reason of insanity, which means jurors must determine if he was legally insane at the time of the shooting and therefore incapable of distinguishing right from wrong. His defense lawyers aren't likely to dispute his involvement in the crime.
"The question isn't whether Holmes pulled the trigger," the AP explained in December. "His lawyers have said as much. It's whether he was sane enough at the time of the crime to be punished for it."
According to Nancy Leong, an Associate Professor at the University of Denver's Sturm College of Law, that's no easy case to make. In Colorado, it's rare for a "not guilty by reason of insanity" defense to be heard by a jury in a first degree murder case.
Generally, the judge would conduct a bench trial and rule on the defendant's sanity himself, Leong told The Huffington Post, or the trial would be preempted by a plea deal.
"It tends to be difficult for defendants to prevail on a [not guilty by reason of insanity] defense because mental illness is poorly understood by many people and imperfectly understood even by the psychiatric community," Leong explained in an email to HuffPost.
Should the 12 jurors rule Holmes was legally insane when he committed the murders, he will be indefinitely committed to a state psychiatric hospital. If he's found to have been sane, the jury will then have to determine if Holmes should be sentenced to life in prison without the possibility of parole, or executed.
In an interesting wrinkle, one member of the jury in the Holmes case — juror 737 — was at Columbine High School when a shooting happened there in 1999.
"It seems very surprising that the defense would let such a juror on the jury, but that suggests that they might know something we don't," Leong said. "I worry about that juror becoming re-traumatized, and perhaps even experiencing some PTSD, over the course of this very long trial."
Opening statements in People v. Holmes are scheduled to start Monday at 12:15 p.m.
This story has been updated with comments from Nancy Leong.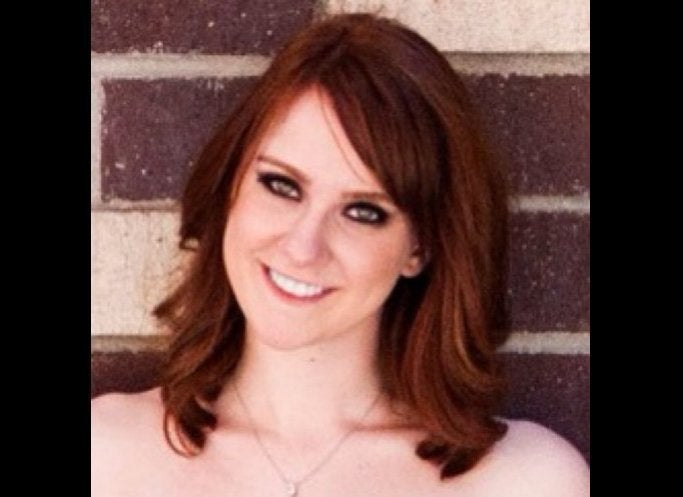 Aurora Shooting Victims
Popular in the Community